Housekeeping Systems, Inc.

Housekeeping Software Demo
How you gather, manage and use information
will determine whether you win or lose."

----- Bill Gates, 1993


To use this Software Demo, scroll down the page and study the various screens and reports. HSI Custodial Solutions is extremely powerful and
can be configured in any way necessary to suit your needs

The Main Menu Screen (below) allows you to easily move around HSI Custodial Solutions and utilize its powerful features.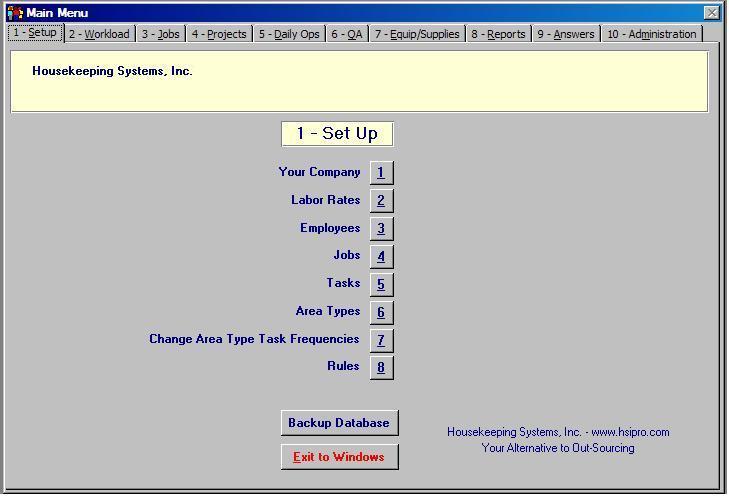 The Employee Screen (below) allows you to maintain critical information on all your employees.

Calendar Button - Record absenteeisms, vacation, sick time, tardies and similar information here
Skills Button - Record written test scores
Training Button - Document all training sessions for each employee
Injuries Button - Document employee injury information and track lost work time
Grievances Button - Document employee grievances and summarize investigations
Work Record Button - Document disciplinary actions according to your Human Resources rules
Work History Button - Record previous work history
Photo Button - Insert a digital photo of the employee for use in work assingments and reports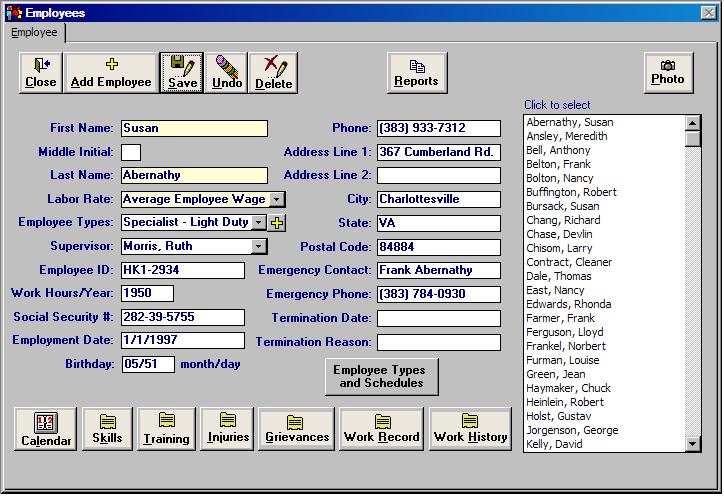 Cleaning Times and Production Rates

On the Task Screen (below) HSI will develop a complete set of production rates for every task your
employees perform as part of the installation process.

Time Calculator Button - Calculate, on-the-fly, how long it will take to perform any task in any area.
Quality Criteria Button - HSI will develop quality inspection criteria for all tasks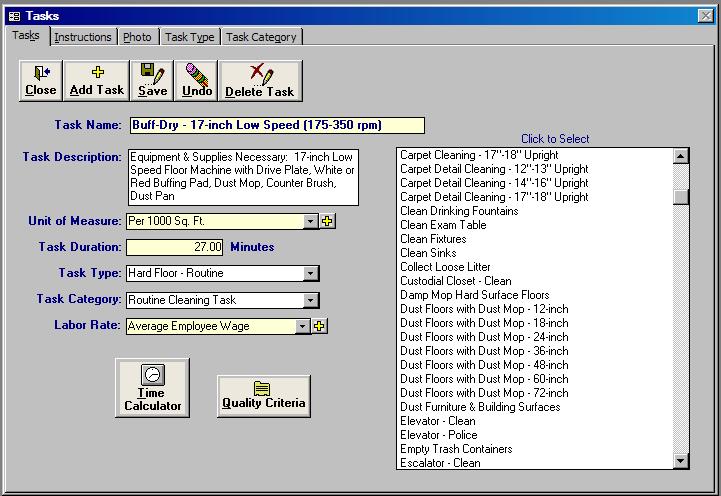 The Tasks for an Area Type Screen (below) is where HSI will duplicate the service level your department
is providing to the facility. Service Level is the specific combination of tasks and frequencies that your
employees perform in each area type. Service Level varies widely from facility to facility.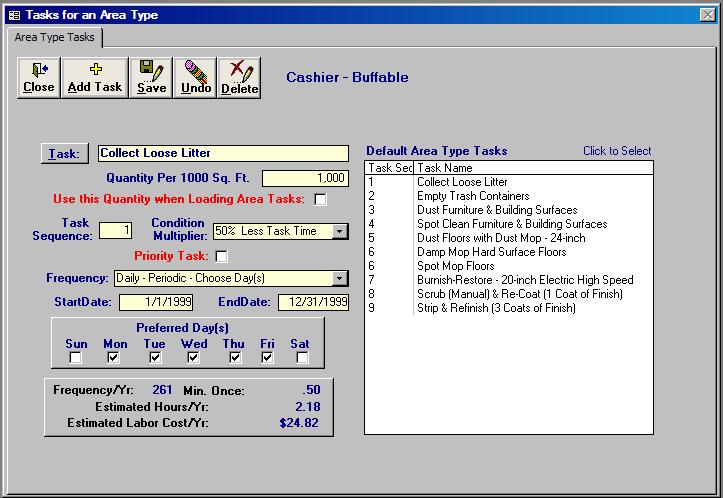 Space Inventory

HSI Custodial Solutions allows you to drill down into your facility data and see the smallest detail.
It all starts from the Customer Screen (below) where you get a global view of your facility. It then moves......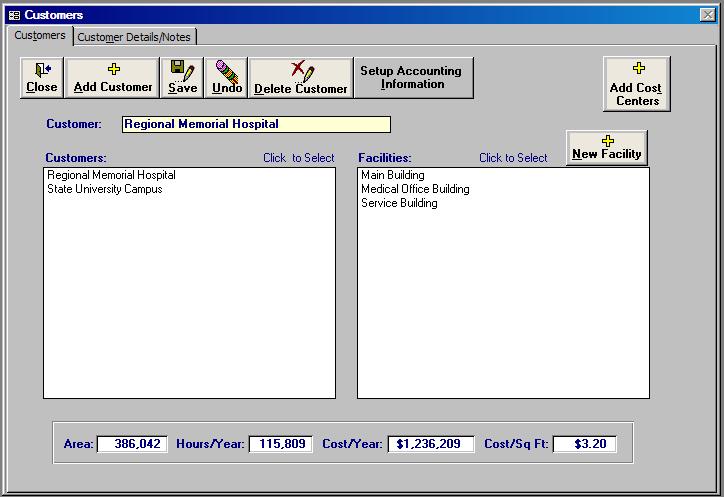 ......Facility Screen (below) where you begin to see the contents of a specific facility. It then
moves down into......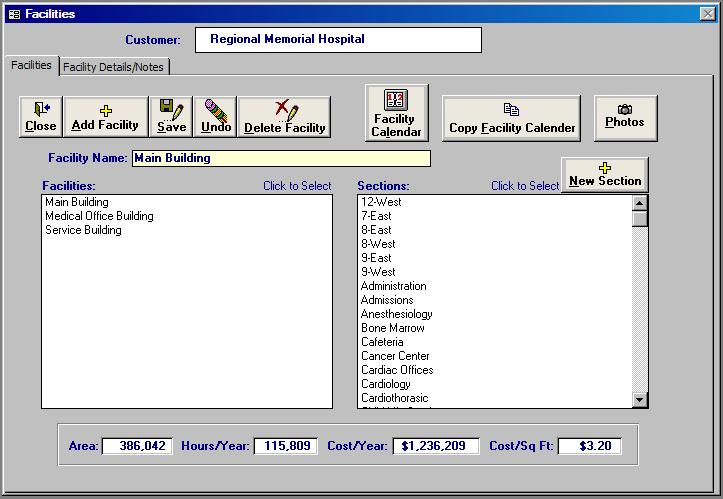 ....Section Screen (below) where you begin to see the departments within a specific facility. Notice
how along the bottom of each screen, you see the critical benchmarks for the part of the facility you are
viewing. Drilling down deeper into your facility you encounter the......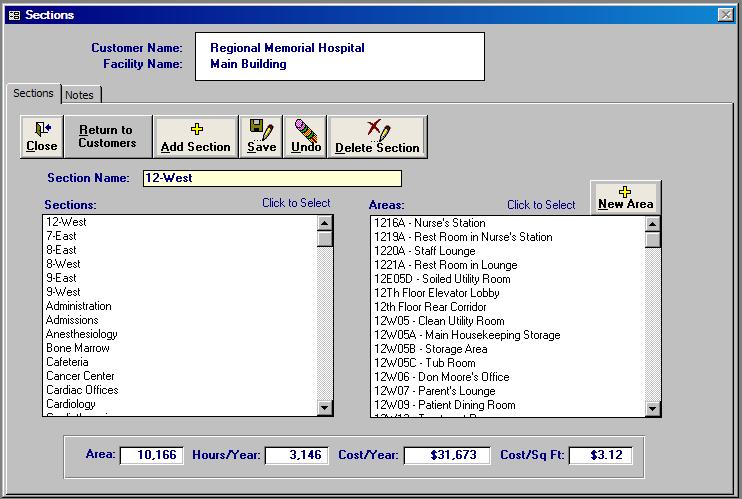 ......Area Screen (below) where you begin to see information about individual spaces and areas within
your chosen building. Clicking the Area Task Schedule button takes you to the......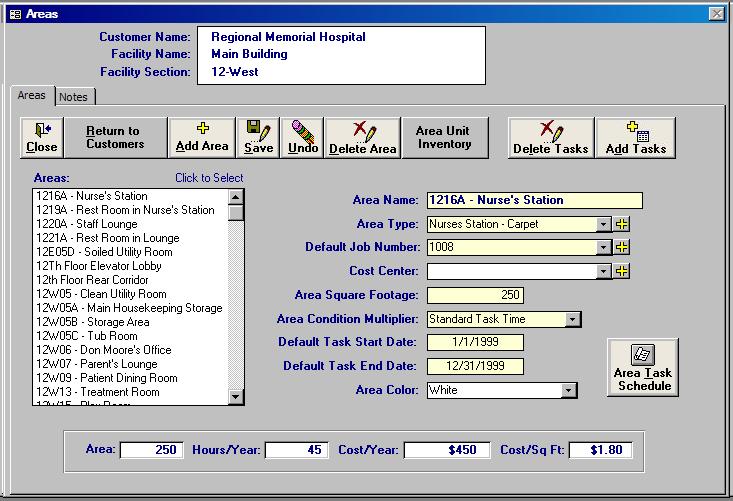 ......Area Task Schedule Screen, (below) where you see the individual tasks scheduled for this space.
Each task can be independently assigned to an individual employee, allowing you to set up zone cleaning
or team cleaning or any combination you desire. HSI sets all this up for you to match your current
service level as part of its installation of HSI Custodial Solutions at your facility. HSI shows you how
to re-arrange your labor distribution quickly and easily.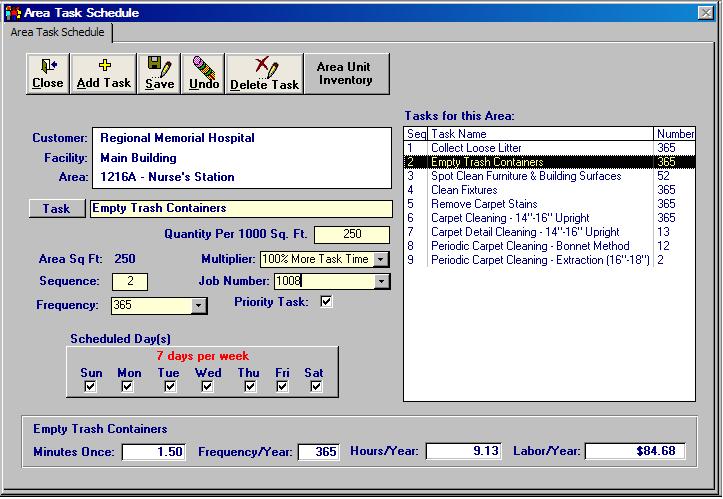 Various reports allow you to study your space inventory data in different ways. The report below
is a general space inventory report showing the spaces and areas in a specific department or section
of the facility.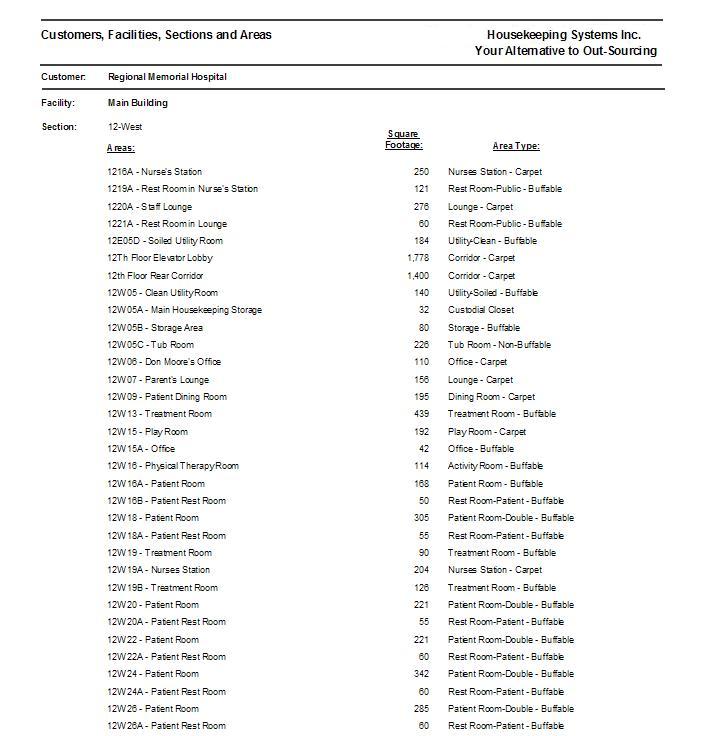 The space inventory report below shows you your space data arranged by area type.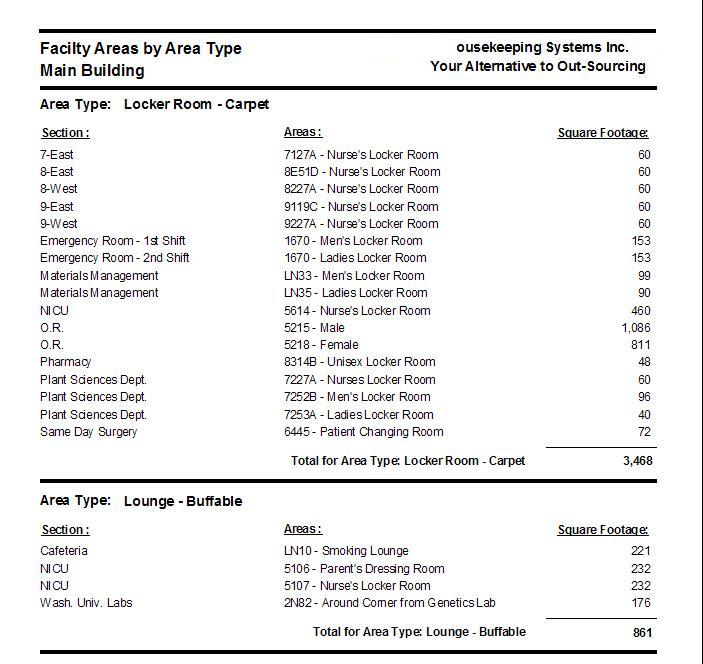 Benchmarks and Benchmarking Reports

The Labor Analysis Screen (below) shows you critical benchmarks for your operation. It can be
configured to calculate and show these benchmarks for any building you have in the database.
Reports, generated from this screen, will show you these benchmarks for any space or department at
your faciliy. Small changes to the assigned work within HSI Custodial Solutions are reflected here immediately.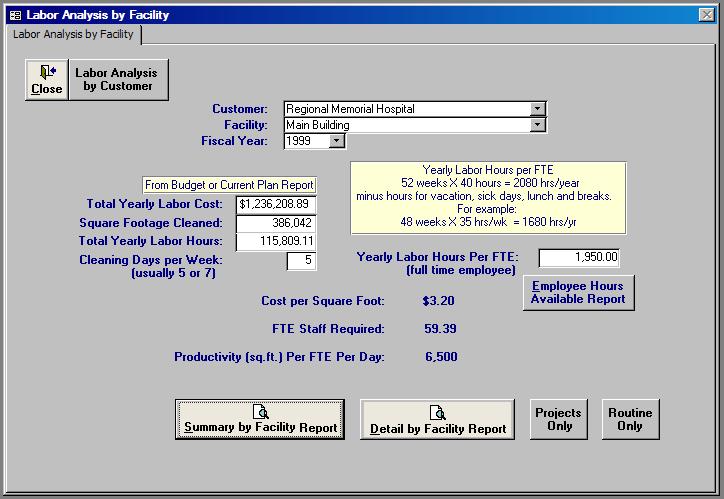 The Power Calculator (below) allows you to calculate and view hundreds of benchmarks for your
operation. Quick, on-the-fly information that helps you make critical decisions about your operation.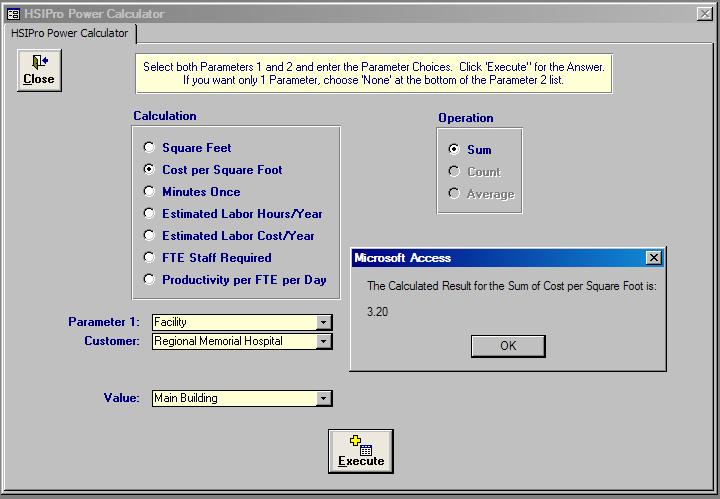 Work Assignments and Schedules

Work Assignments (below) can be viewed and printed in a numerous ways. Seen below is a typical
Zone Cleaning Work Assignment. It can be printed with or without the time it takes to perform each
task. There can be no question about what is assigned to an employee with a work assignment like
this.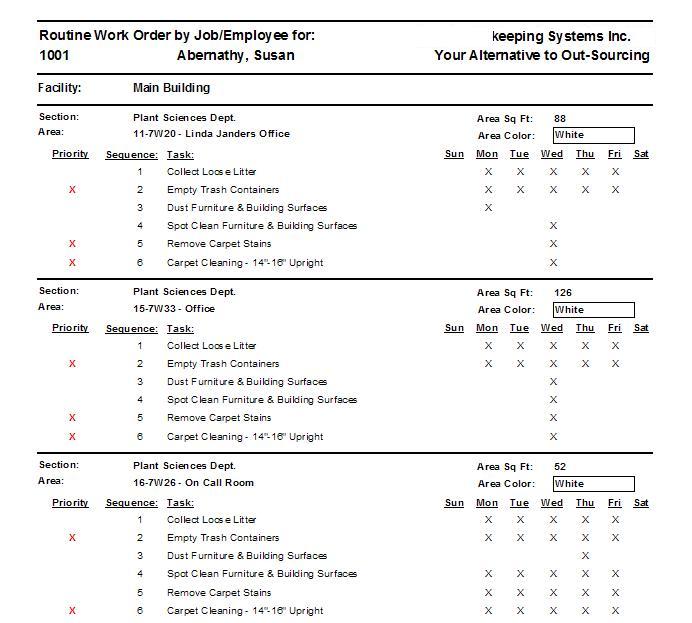 Team Cleaning Work Assignments (below) can be viewed and printed also.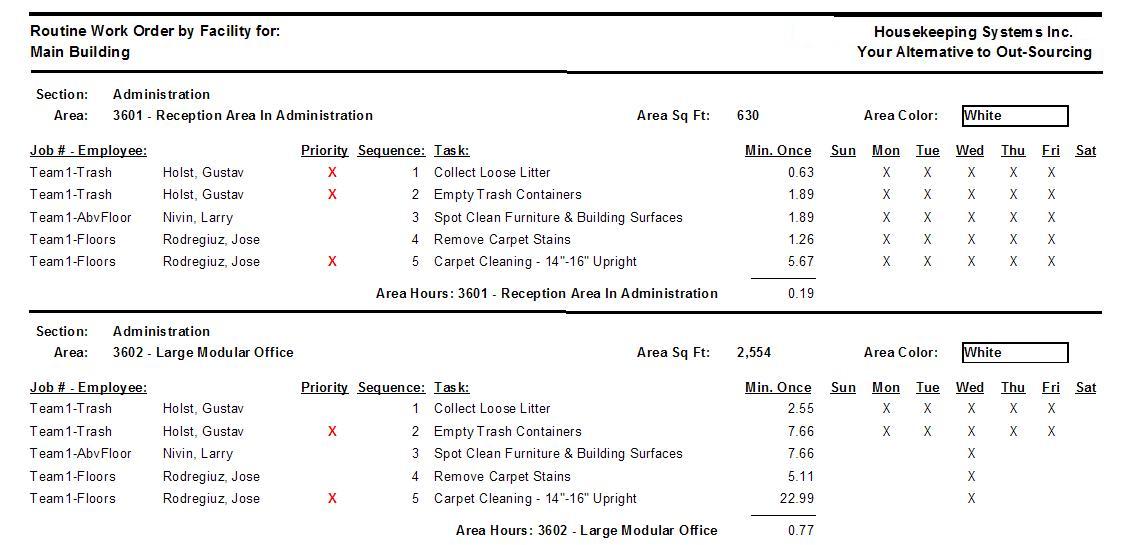 Used as a supervisor's report, the Routine Hours by Job Number Report (below) can be used as a
management tool by supervisors to monitor the progress of an individual employee.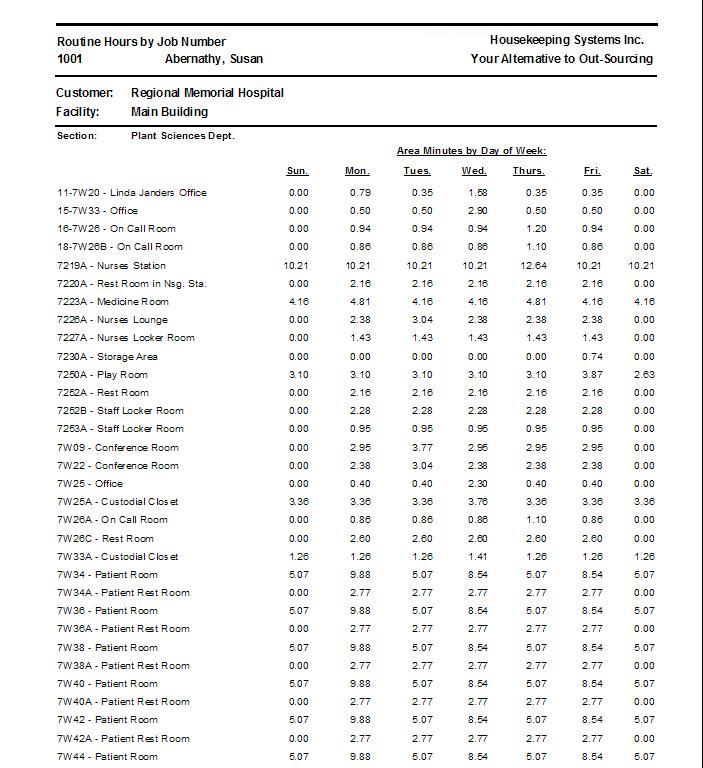 Quality Assurance
Quality Assurance Inspections have never been easier. Using handheld Palm Pilots, inspectors can inspect the performance of employees more easily than ever. HSI Custodial Solutions maintains the inspection results and offers up a variety of easily understood reports and graphs showing employee performance.

Inspection results are maintained in the HSI
Custodial Solutions Software. You can review the results in both table and graph format.

Compare QA Inspection scores between employees, supervisor groups, buildings, departments or tasks.


Shown below is a graph of an individual employee's QA Inspection scores over a period of time.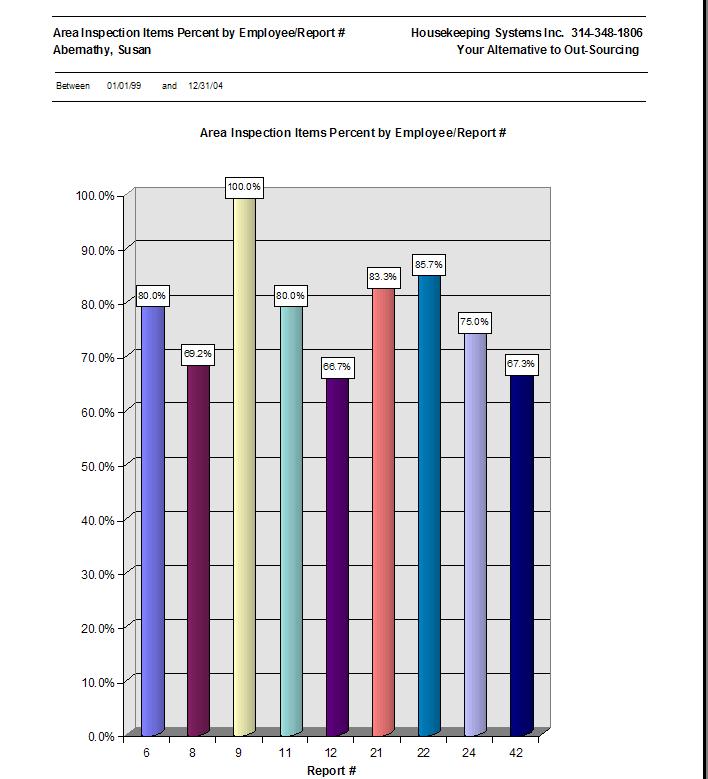 QA Graphs comparing performance among different employees are valuable in creating an environment
of friendly competition.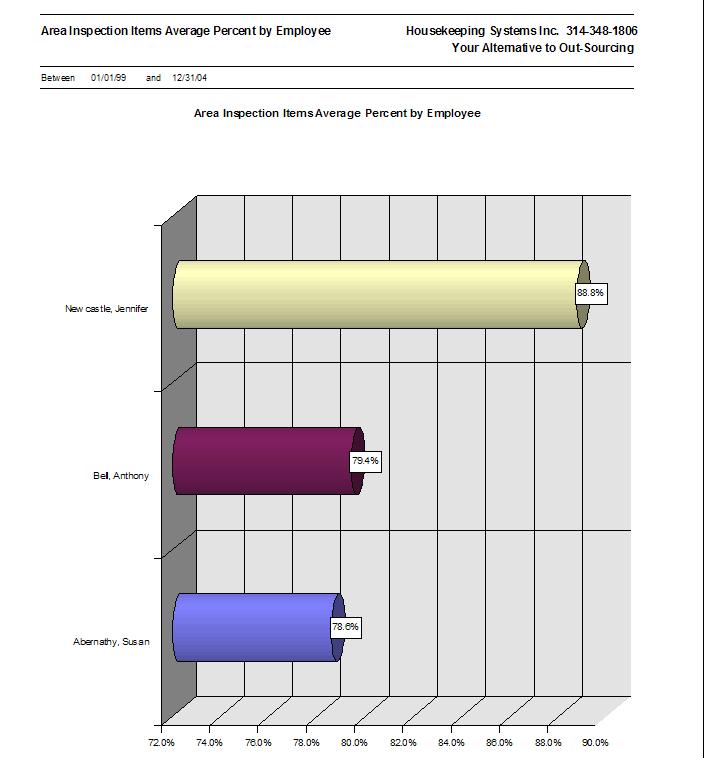 Look at Quality Assurance in ways never before possible. Study which tasks an employee shows
weakness in and use the information to plan training sessions for individual employees.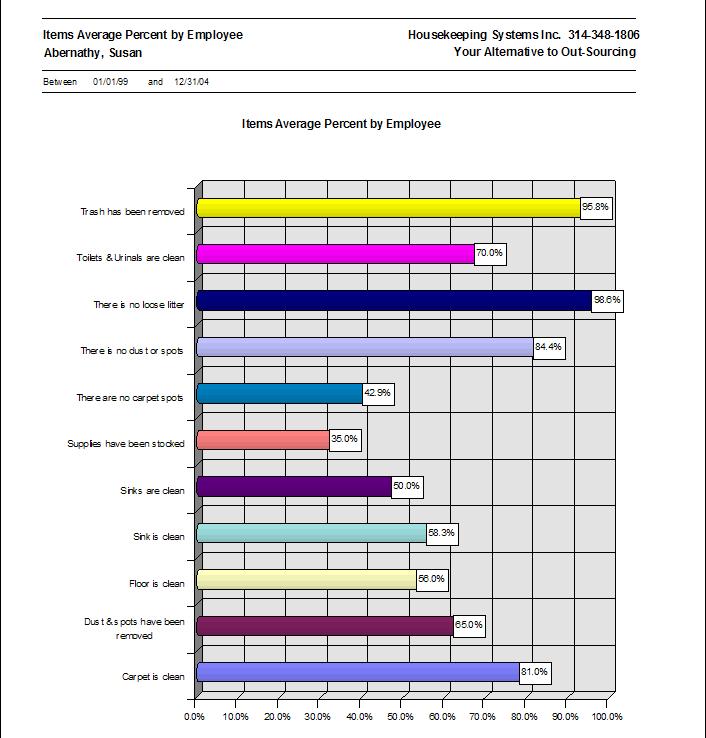 Record Customer Comments (below) about your employees and place the information in the employee's
personnel file for use during annual evaluations.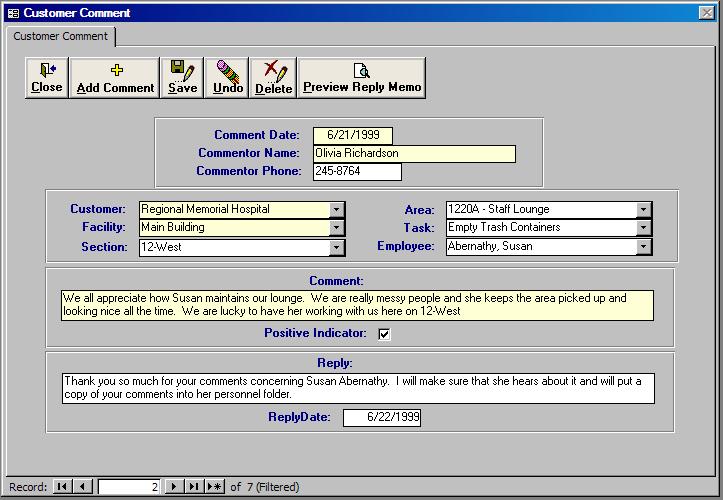 Update Employee Training records (below) quickly and easily with HSI Custodial Solutions's mass update feature.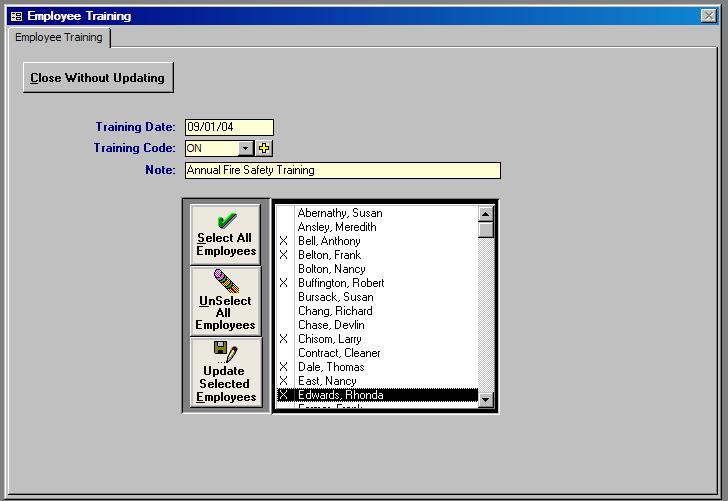 Equipment and Supply Inventory Management

Maintain Equipment Inventory information (below)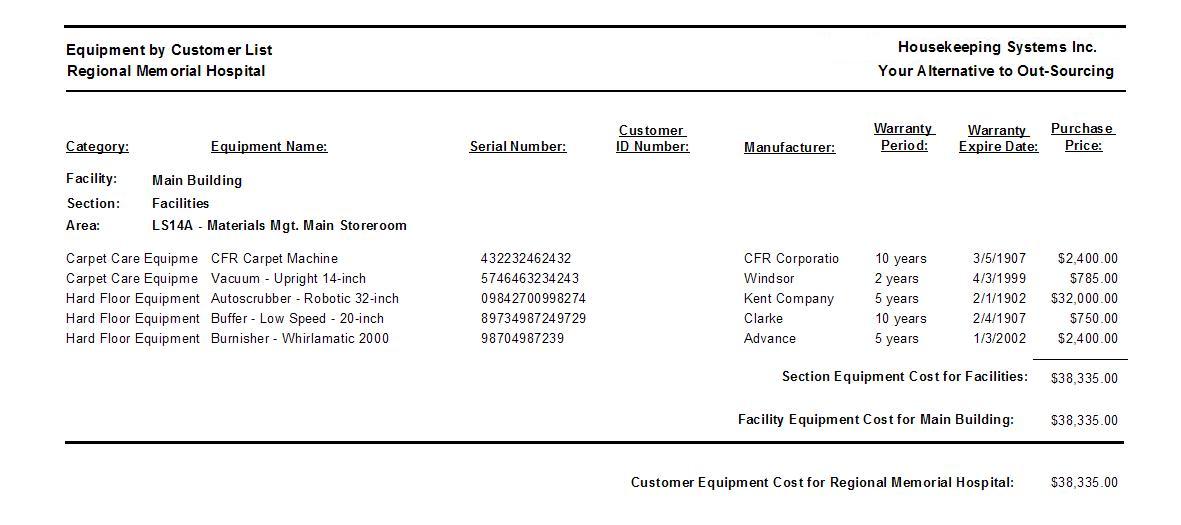 Maintain Equipment Repair Records (below)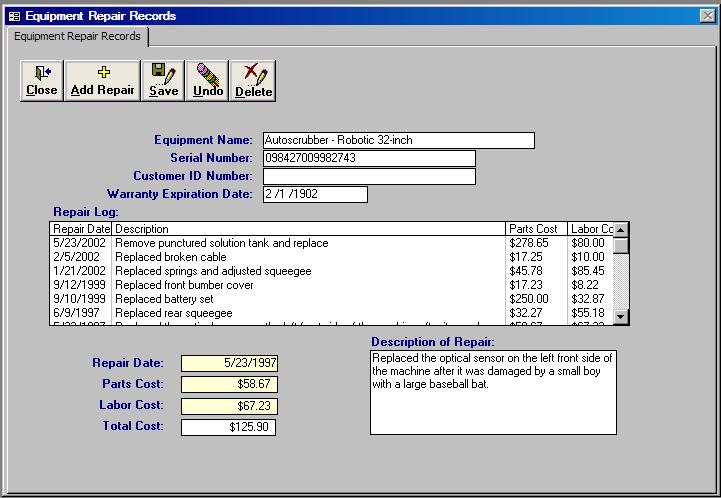 Maintain your Supply Inventory information (below)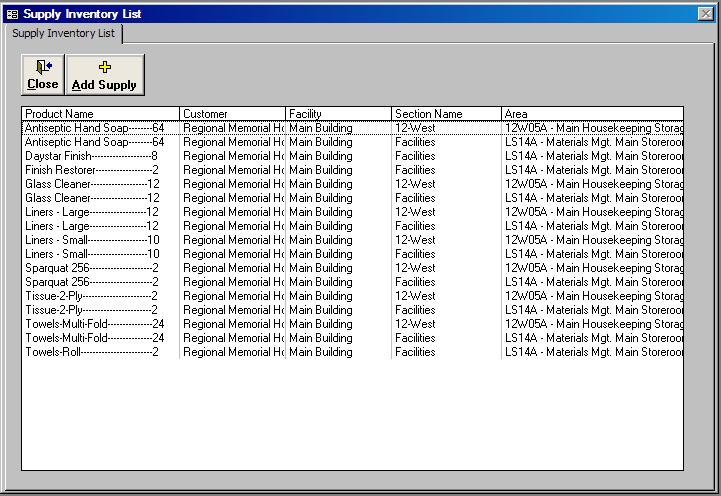 Issue Supplies and know how much inventory you have in any location around your facility. Identify
overuse or theft of supplies by monitoring inventory usage.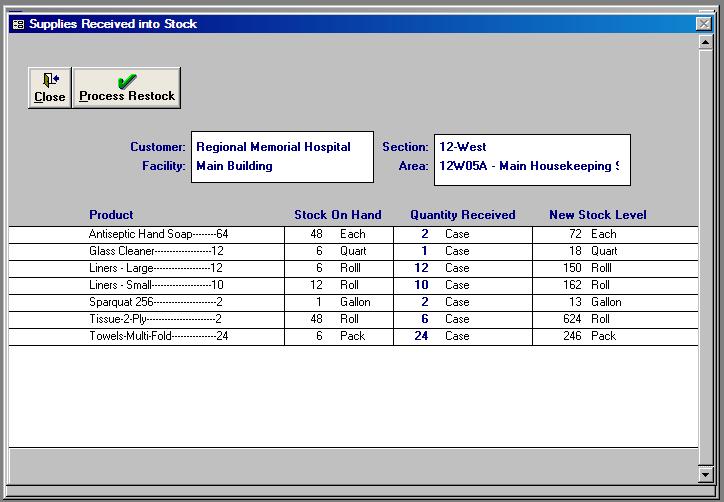 Use HSI Custodial Solutions's numerous supply reports to help you budget more effectively.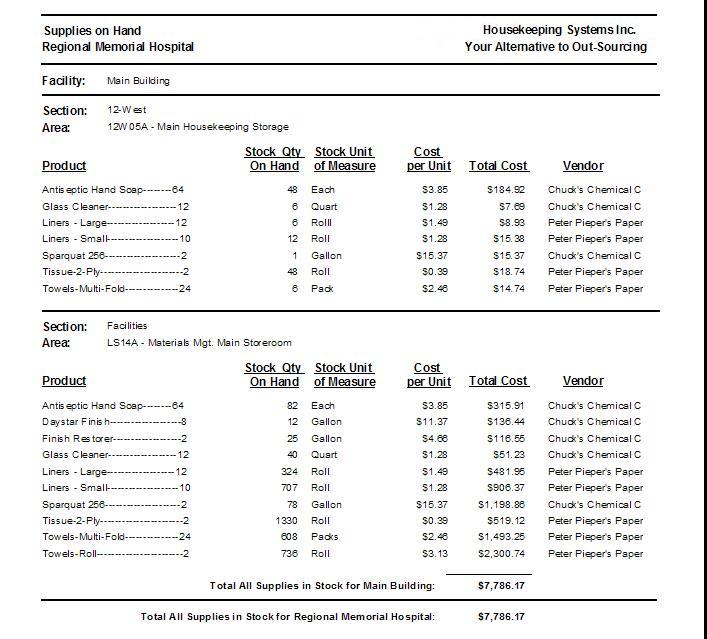 Interested in recieving a proposal for HSICustodial Solutions Housekeeping Management Software?
Review the type of information HSI needs to develop the database on the Fees Page and then contact us at
at info@hsipro.com. We will prepare a detailed proposal including a time frame and references from some
of our satisfied clients.



Home | Software | Training Programs | Staffing Analysis | Inspection Services | Conversion to In-House | Support Programs
Cleaning Time Calculator | Housekeeping News & History | Articles & Reports | Fees | Contact Us | Links
Housekeeping Systems, Inc. - 476 Pittman Matthews Rd. - Athens, GA 30565 -
info@hsipro.com
Copyright 2001~2011 Housekeeping Systems, Inc.
Privacy Policy