Road Trip in the Four Corners Area - May 2007
Meredith Rice Denson Graduates from Arizona State University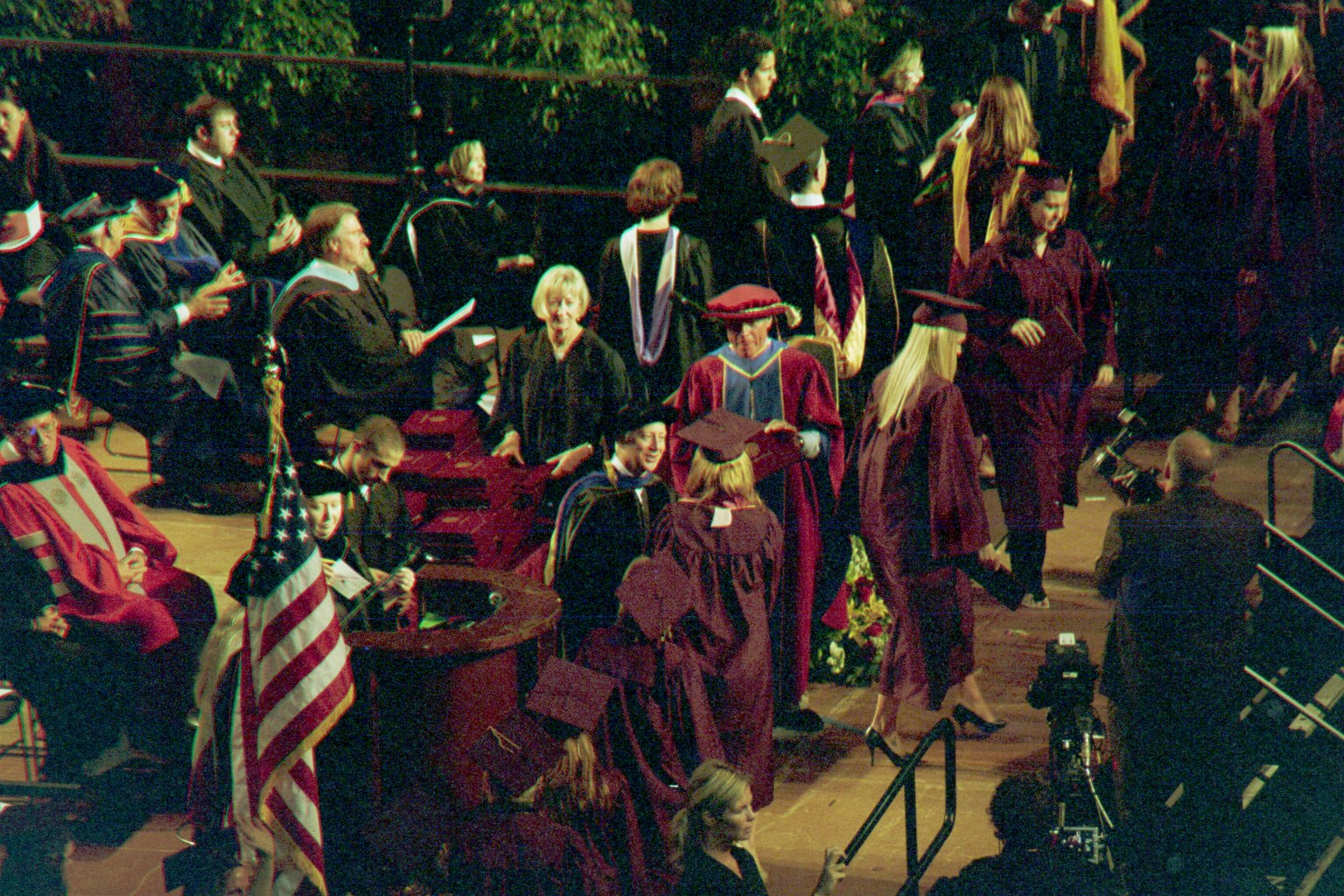 Of course, the main reason for the whole trip was to attend Meredith's graduation. That's her recieving a BS in Family Dynamics from the Harry Potter looking guy.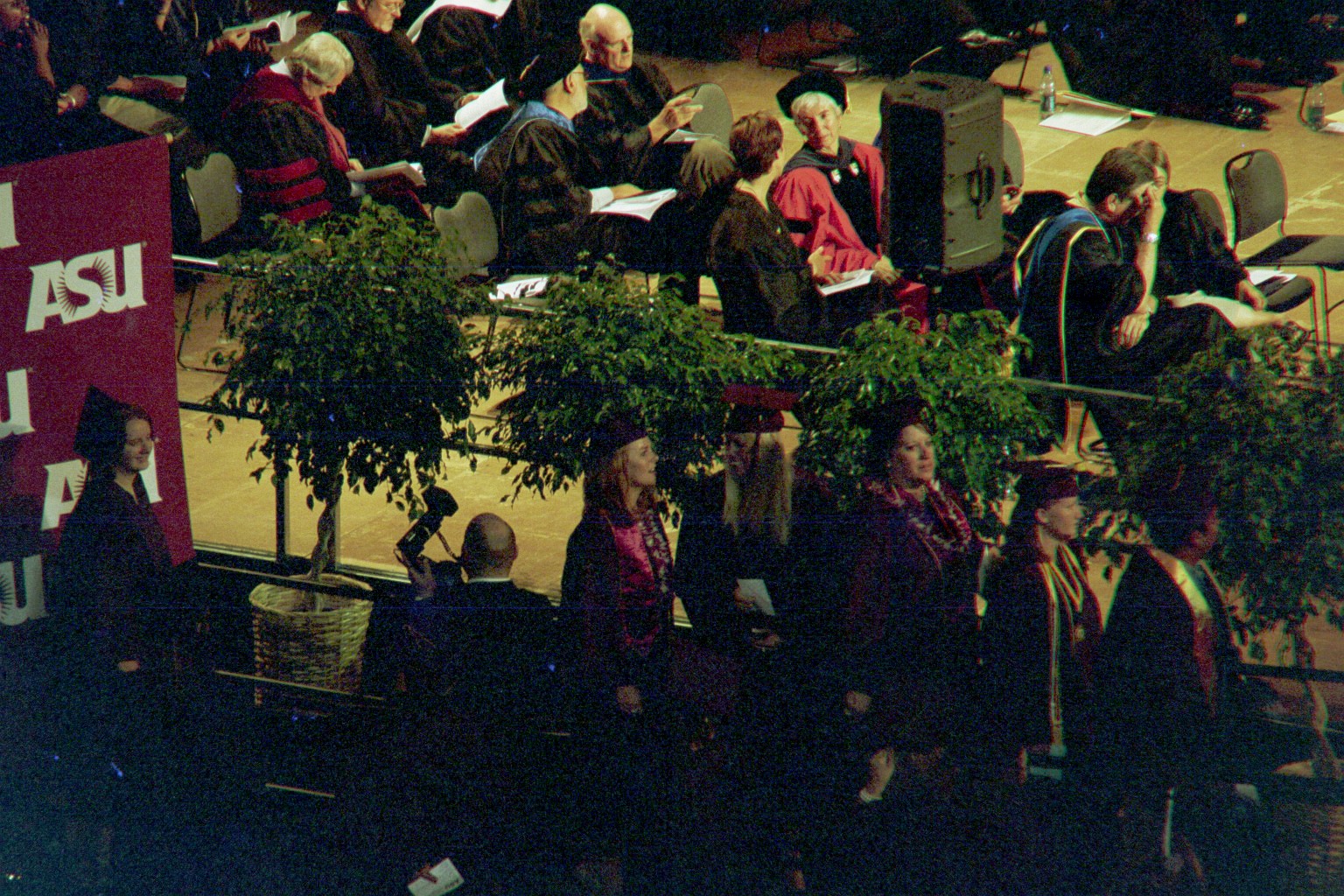 I guess this picture should have gone first. Here she is in line to recieve her diploma. She and her friend are talking..."So, have you heard of any jobs. I haven't."
and "OMG, you mean I now have to actually earn a living with this degree?"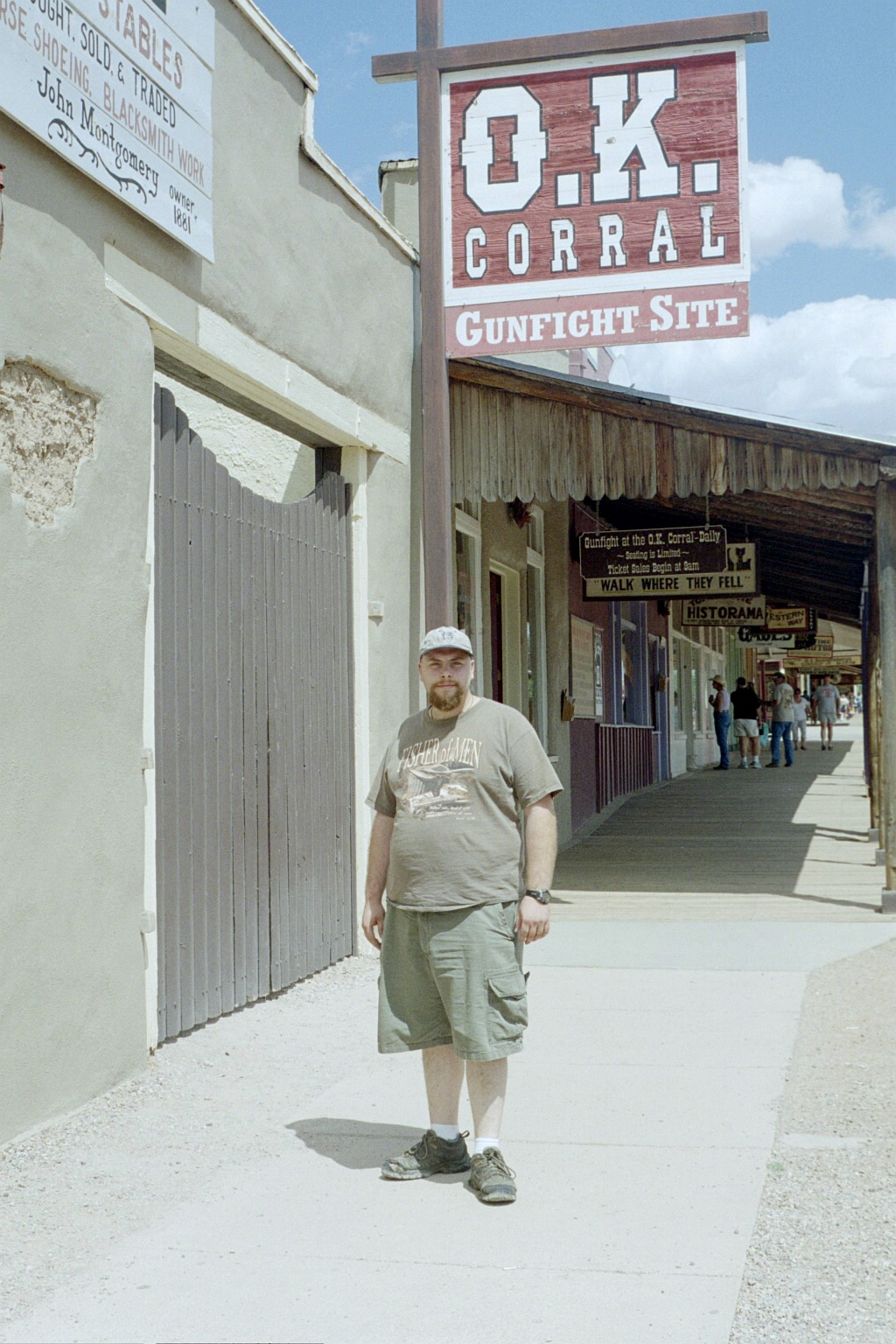 Tombstone, AZ - David and I went to Tombstone on the only free day he had out in Arizona. He had to get back to central
Florida, because he hadn't built up enough time off from work to be gone for more than just a few days. Not to worry. He is
young and will see the other sights at a later date.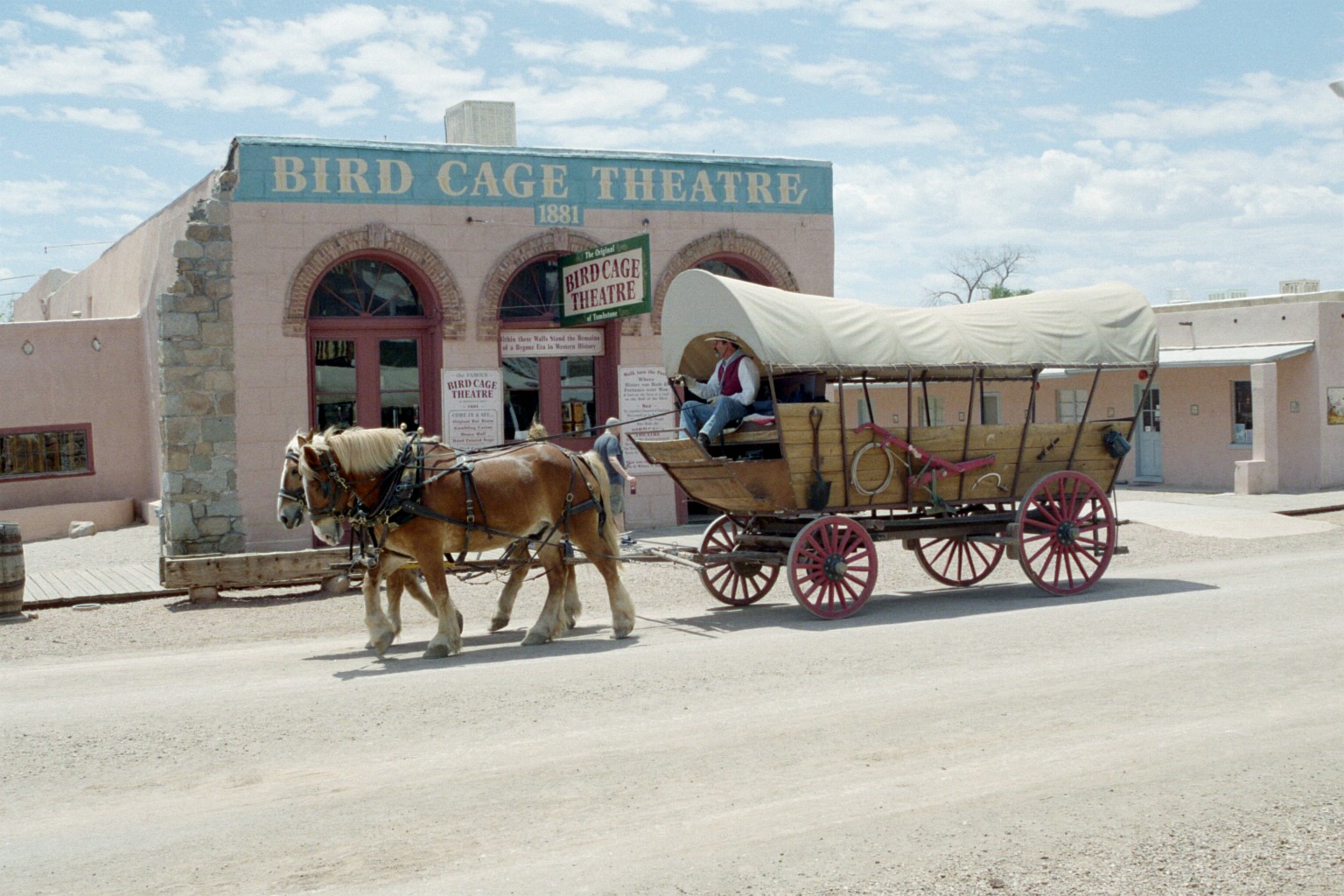 Tombstone, AZ - I have to say - Tombstone is one of the more accurately re-created historic sites I've ever seen. The Bird Cage Theatre was built in 1881
and was there during all the real events that took place here. The Covered Wagon dates from the 1830s and 1840s, but only an anal history nerd, like me,
would notice that.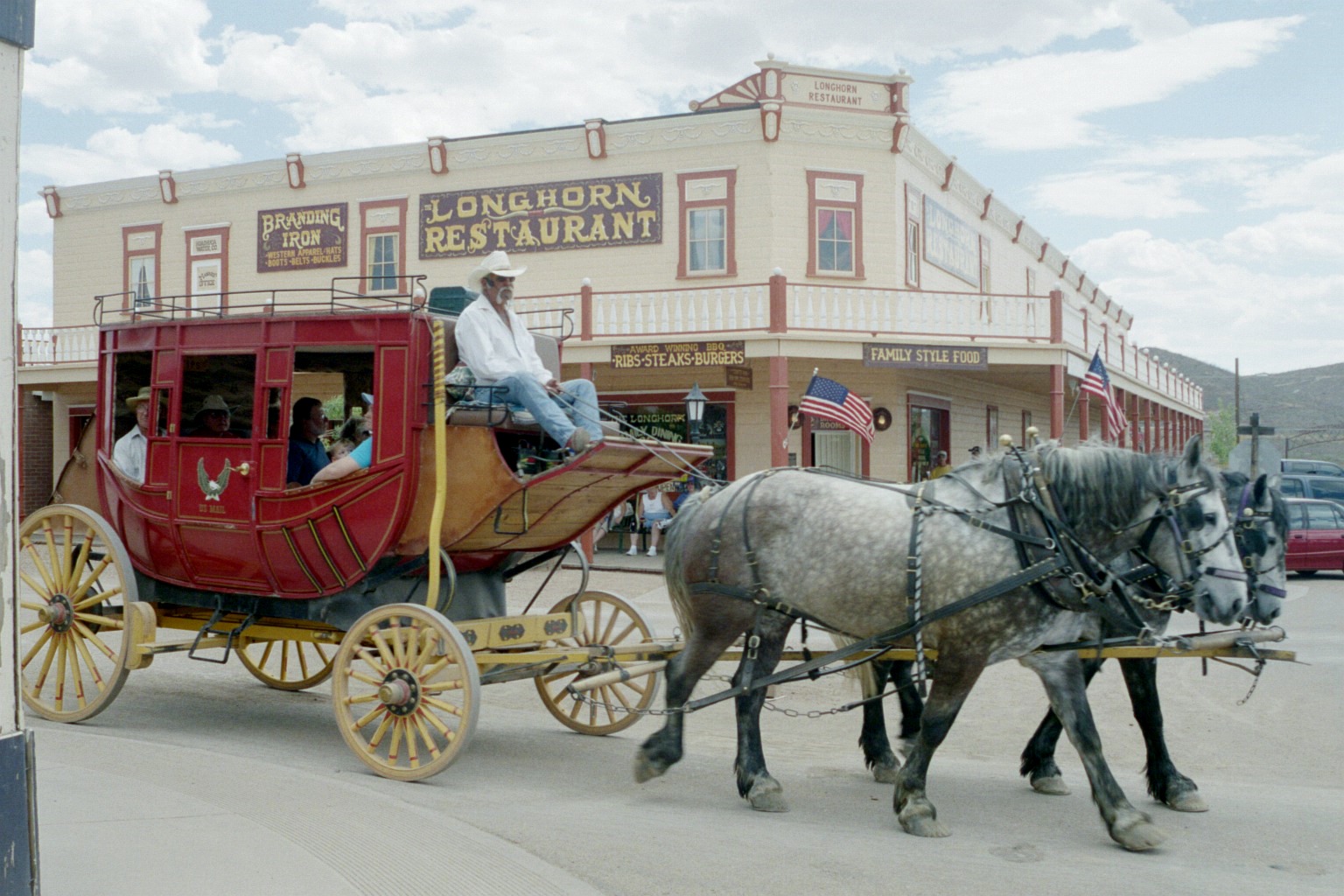 Tombstone, AZ - The Longhorn Saloon was there for the real historic events too. The Stagecoach does date from the late 1800s and is fairly accuratly
depicted. Interesting thing about stagecoaches. They had a built-in suspension system to make the ride more comfortable. See the curved metal pieces
in the front and back. Between them is slung leather straps suspending the coach. Even on smooth roads (not many of them in the old west), passengers
frequently got seasick. Passengers were also expected to help protect the stagecoach from bandits and indians. "How was your trip dear?" One stage
company that traveled this part of the old west was The Butterfield Overland Stage Line. They were one of the premier coach lines in the old west.
They were the Federal Express of their day.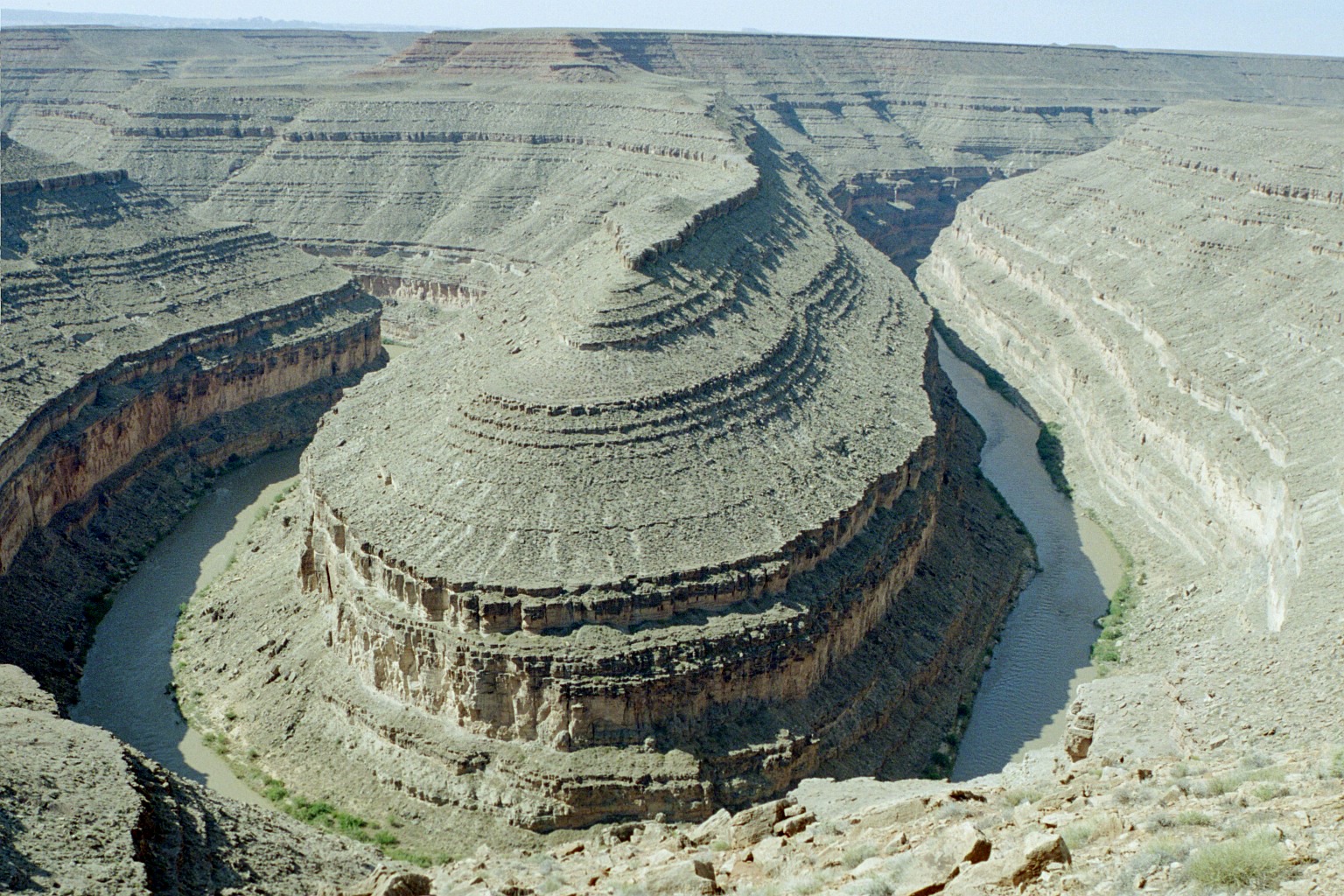 We stayed at Mexican Hat, Utah and then visited Goosenecks State Park. This is one of several goosenecks made by the San Juan River in southeastern
Utah. Approaching the overlook, you have no idea of what is ahead. It's only when you get within about four feet of the railing that you're able to see
anything. Suddenly, it's there. There are three goosenecks visible from the overlook. The camera could only get one in the viewfinder.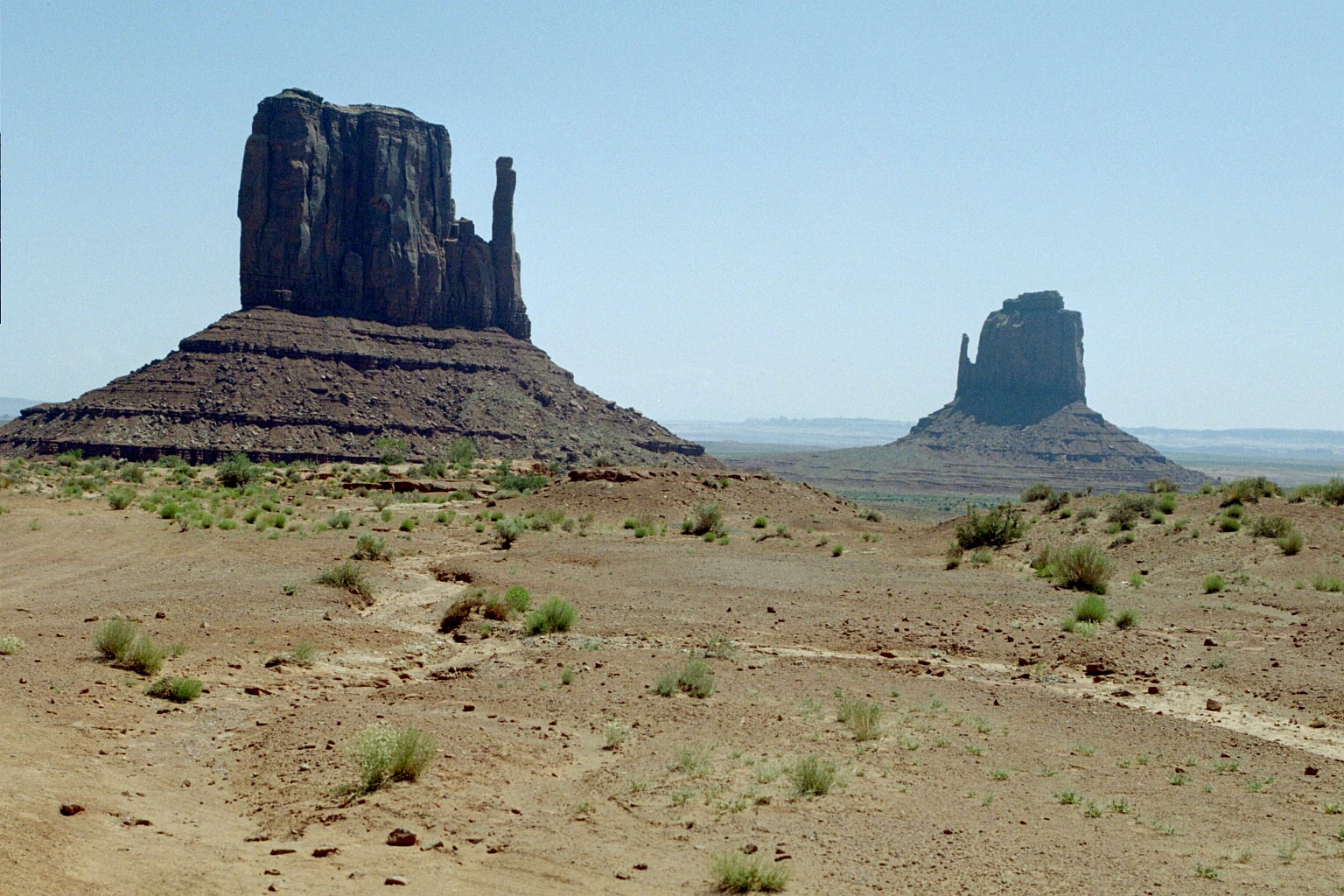 Monument Valley, in northeastern Arizona is the archetypal "Old West". This is the image that defines Monument Valley. The Left and Right Mittens.
Dozens of Hollywood movies were filmed here, from Stagecoach and How the West was Won to Back to the Future Part 3 (remember Marty McFly,
in the DeLorian, being chased by indians). Those indians were Navajo, from this part of the country. Many of them had whole careers playing themselves
in Hollywood western movies shot in Monument Valley.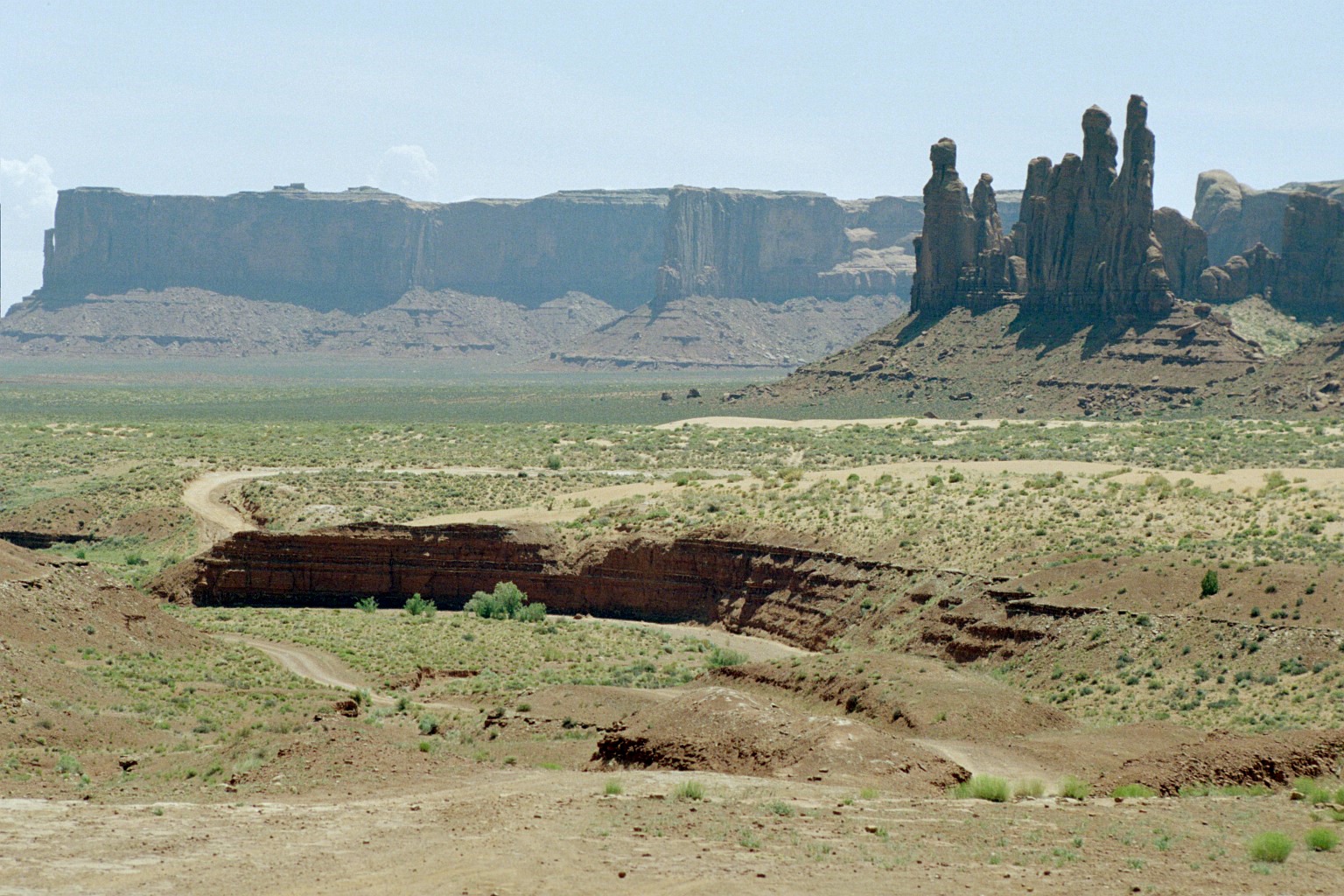 Monument Valley - John Ford Point, from a high spot on the valley floor road.
Monument Valley - We visited in mid-May, which is the wettest (and greenest) time of year. The valley gets about 15 inches of rain per year.
According to climate data, Central Florida gets about 45 inches per year - three times as much. By high summer, this will all be brown.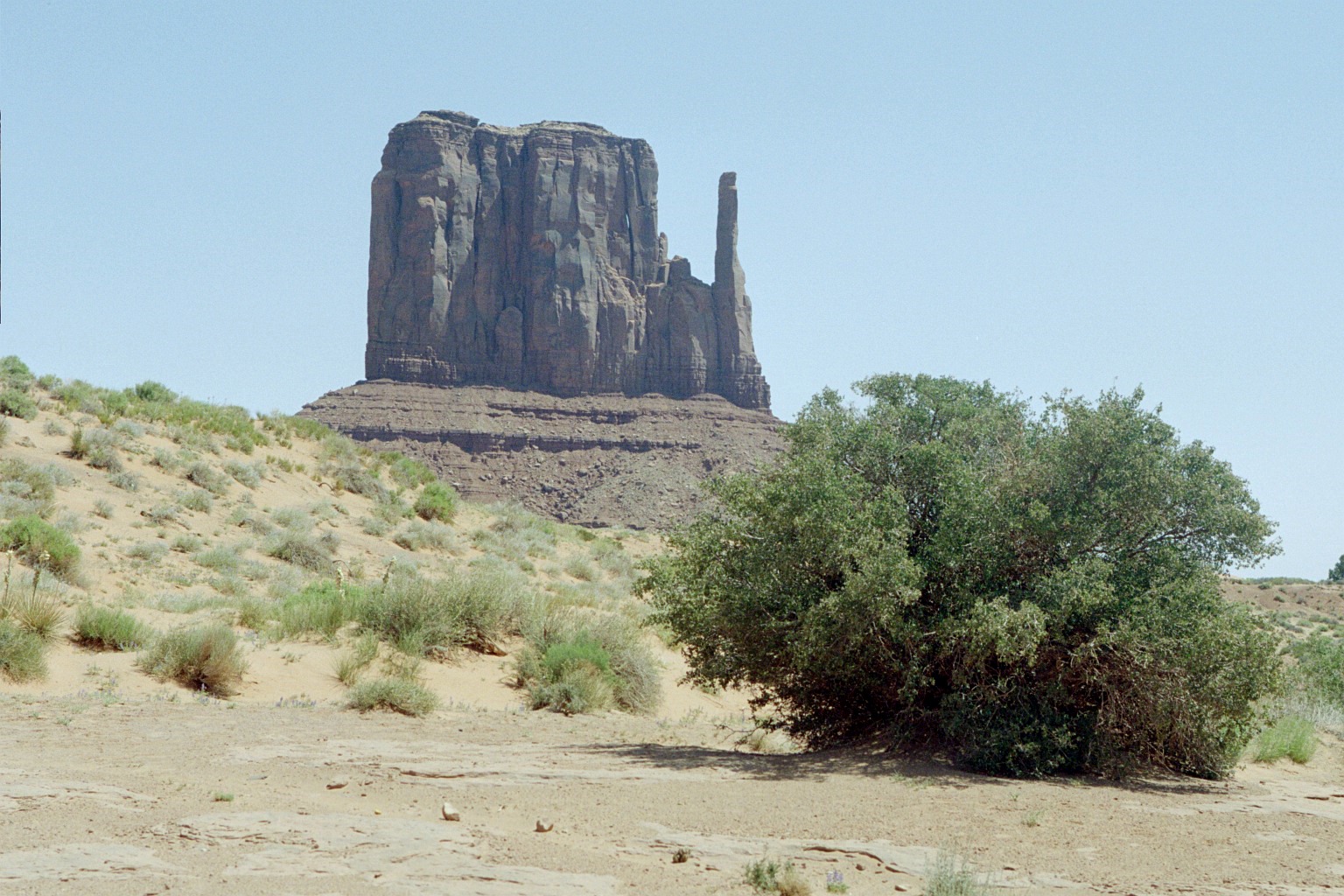 Monument Valley - Another Mitten view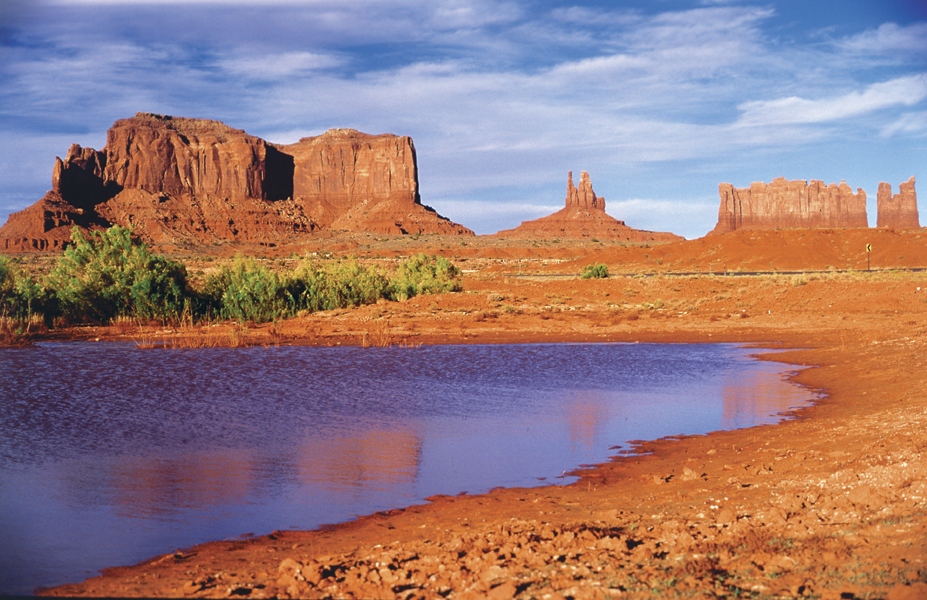 Monument Valley - Being in the desert does not mean not having any water. It means that it doesn't rain much.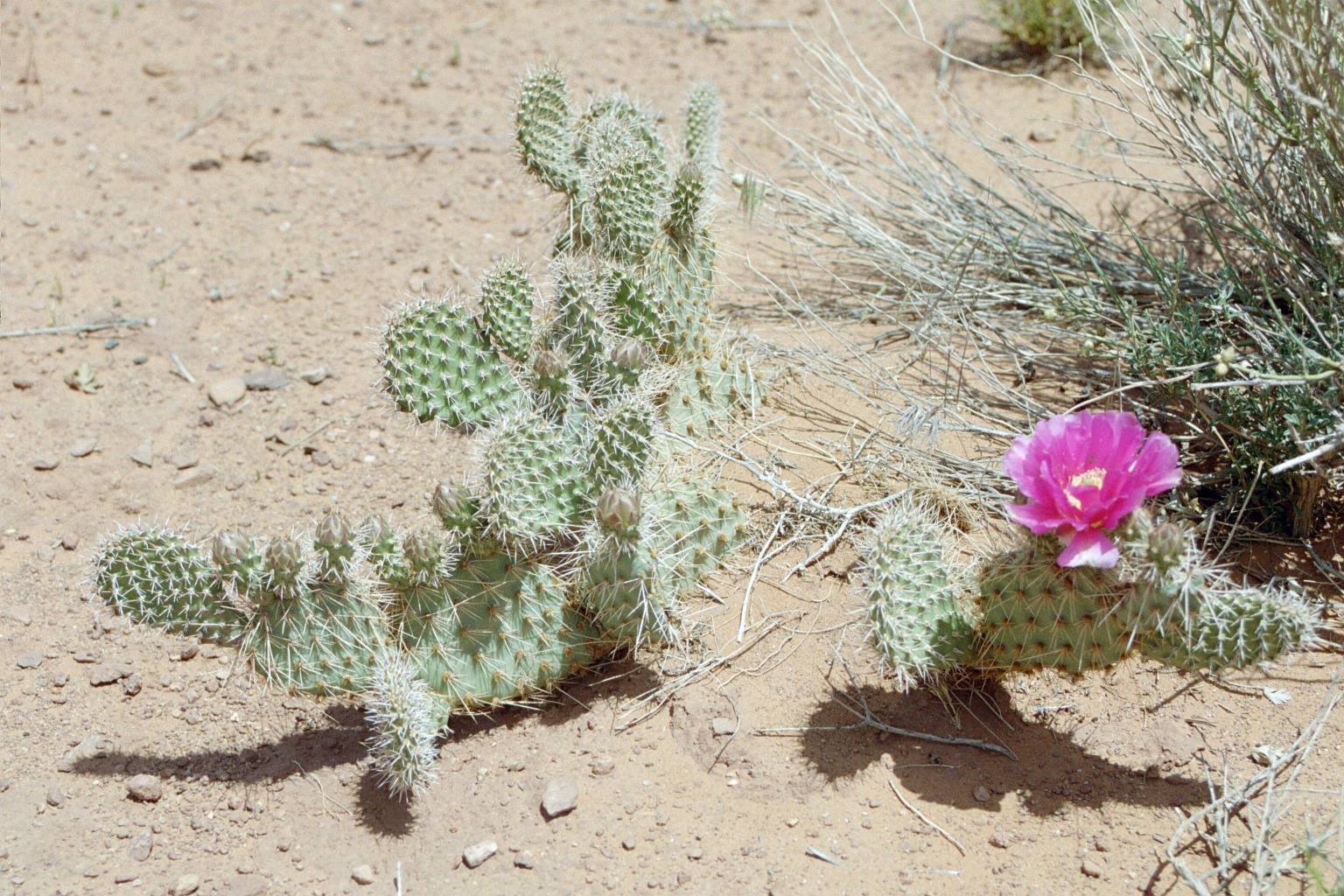 Monument Valley - The cactus bloom for about ten days in May.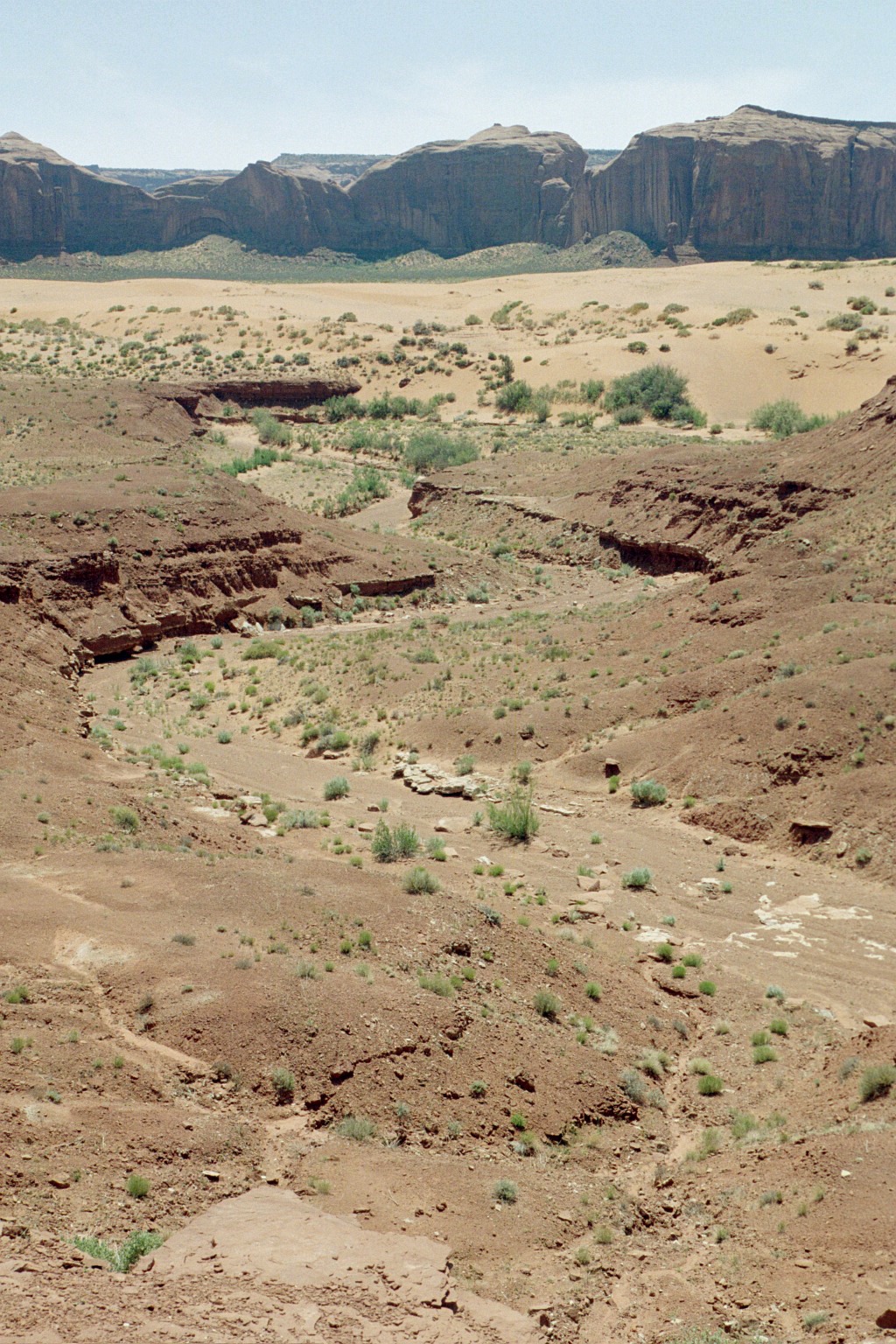 Monument Valley Dry Wash - It doesn't rain much, but if it rains in the right spot, this dry wash will become a raging torrent up
to 12 feet deep.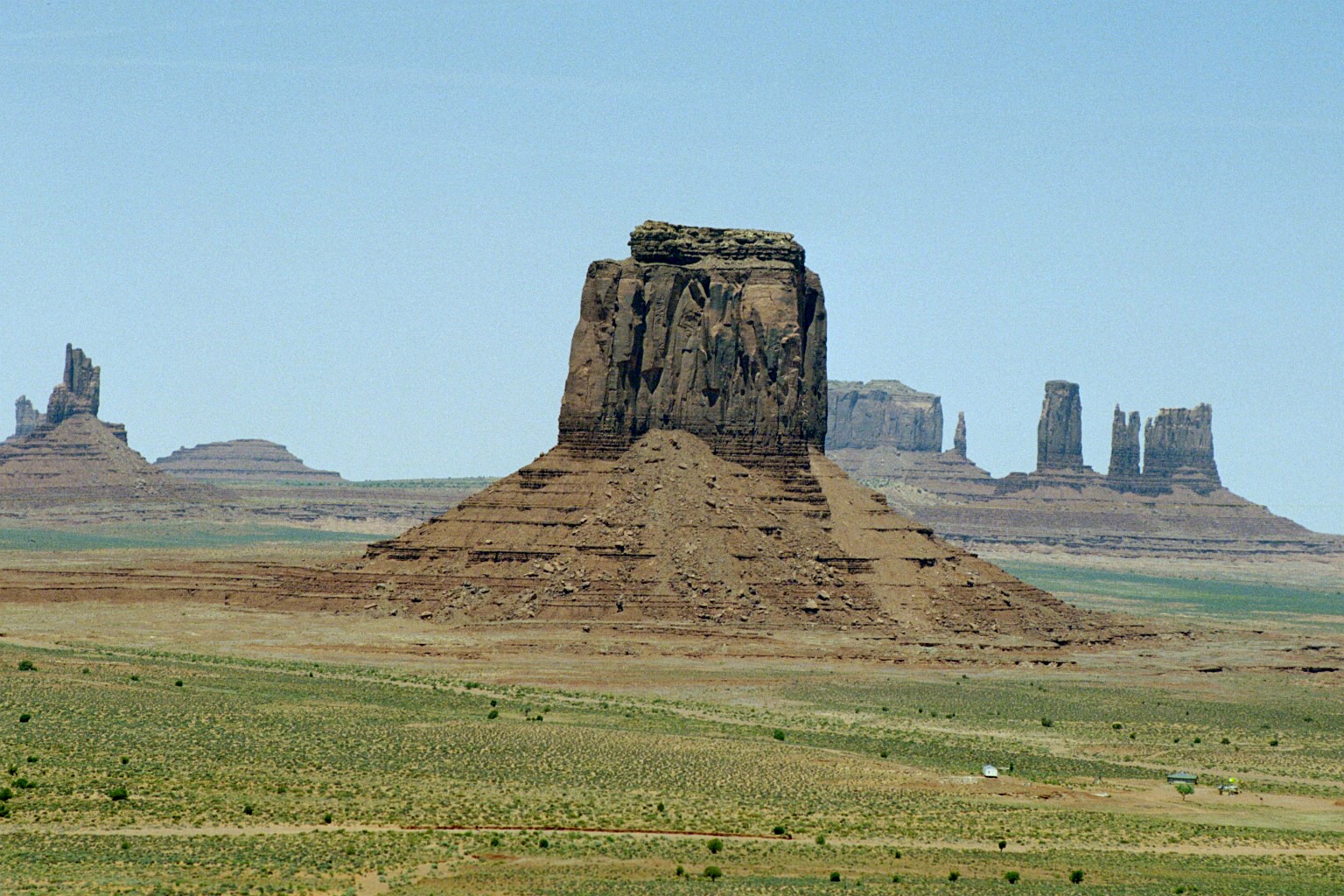 Monument Valley is on the Navajo Reservation. The Navajo, or Dine (Dee'-nay) as they call themselves, live in the valley. See the mobile home near the
bottom right. The Navajo Culture is interesting. Their values are different. Their traditional way of life is different. Irene met a Navajo teacher on the plane
back home. They had an interesting discussion. If you're interested in all things Navajo, visit the link earlier in this paragraph.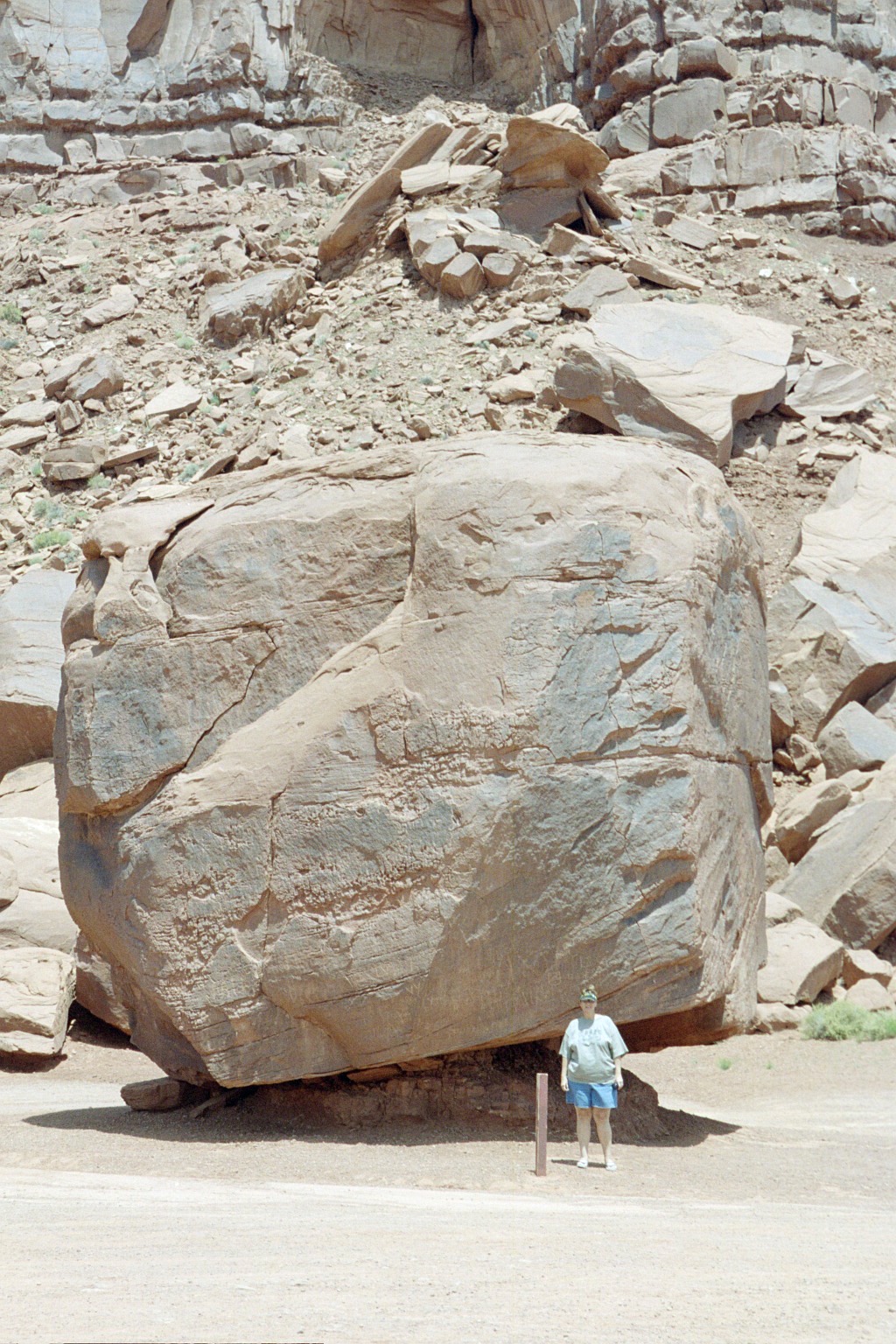 Monument Valley is a massive place. Everything is big. The views are big. The rocks are big. Irene is standing by
a rock the size of a three story building.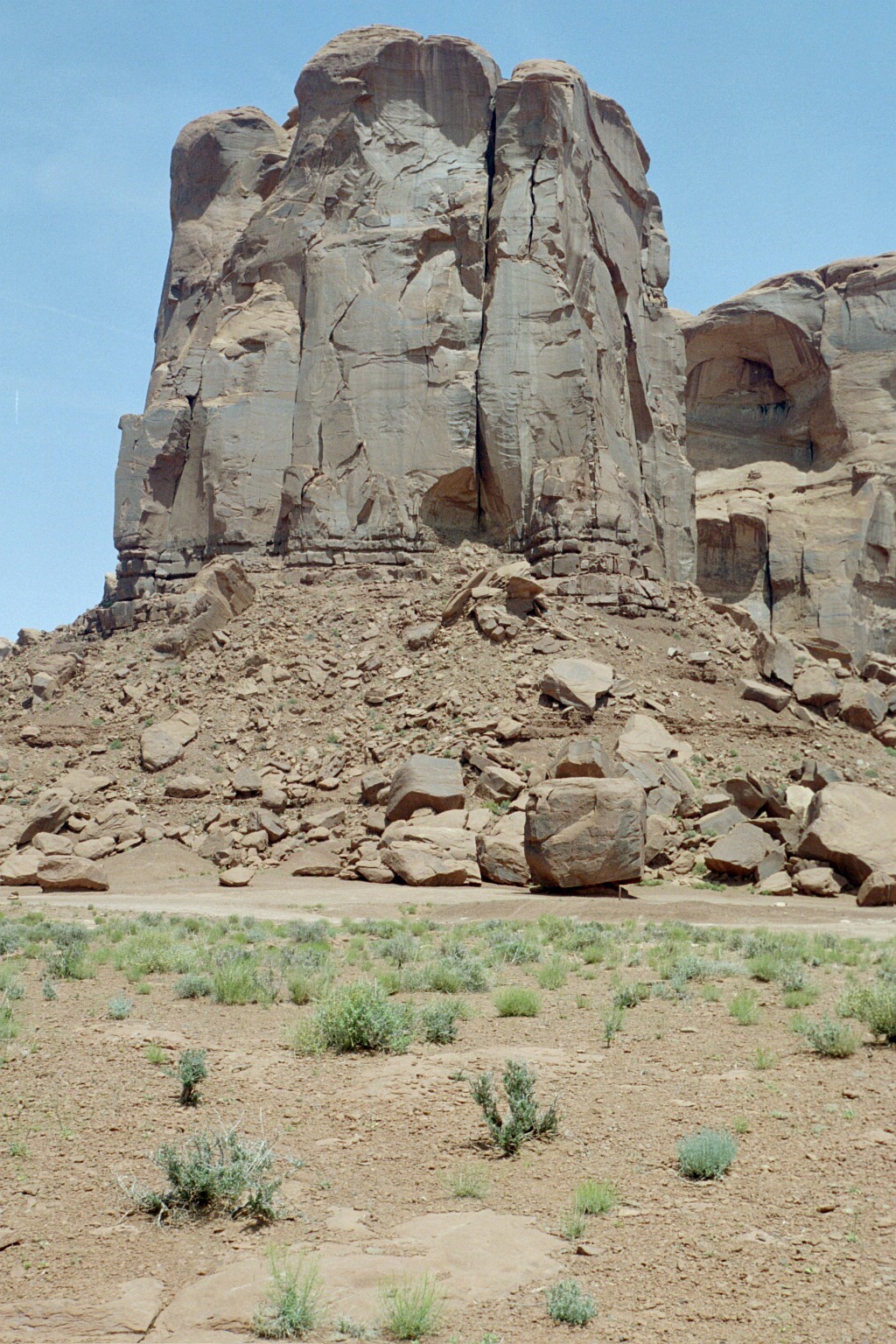 Monument Valley - Find the same square rock in this picture.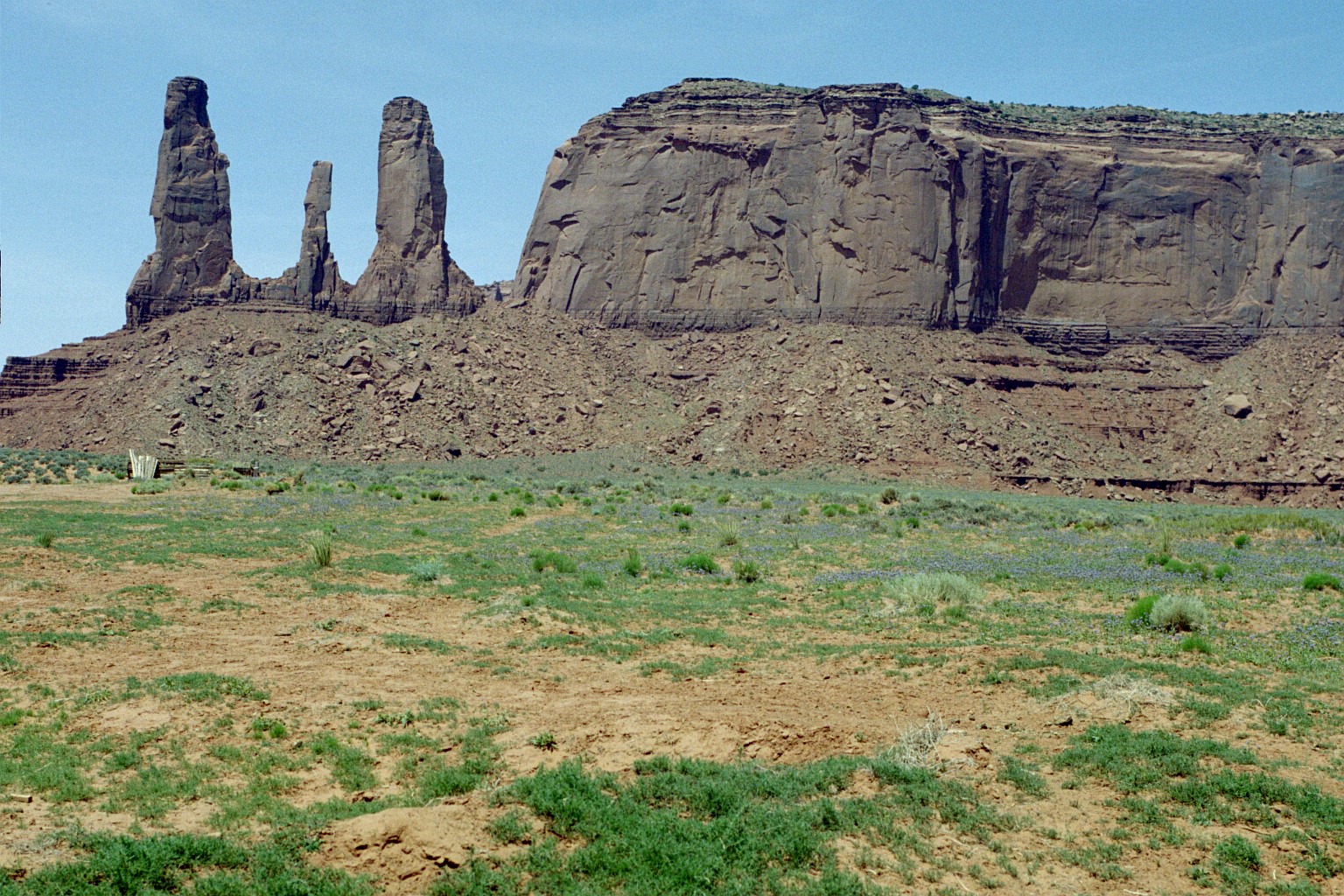 Monument Valley - Three Sisters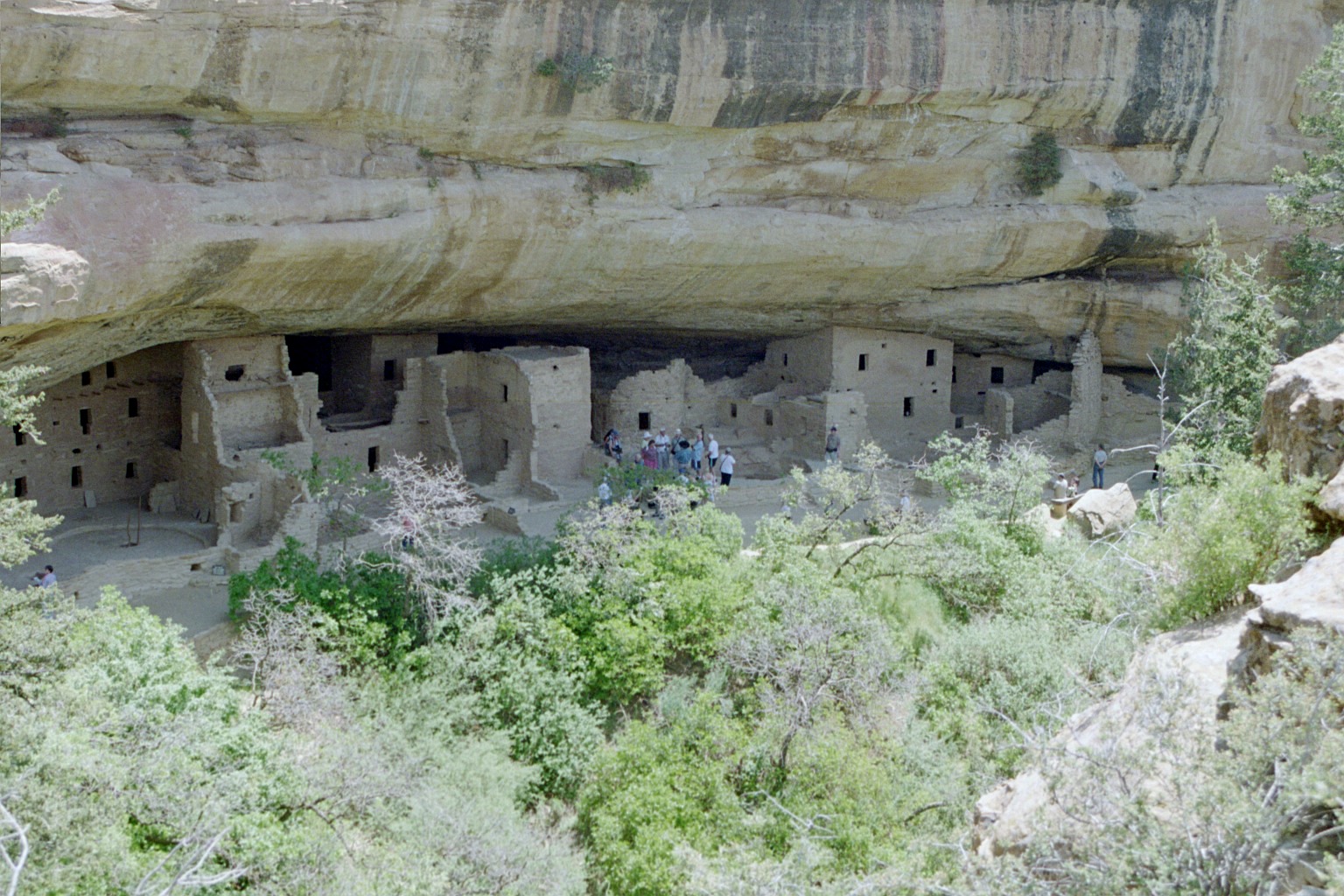 We also visited Mesa Verde, near Cortez, Colorado, in the extreme southwestern corner of Colorado. Mesa Verde is a World Heritage site. I'm not sure
what that means, but its a pretty big deal. There are only a few of these sites on the planet, This view in on the trail leading to Balcony House. This is the
only site, of hundreds, at Mesa Verde that you can crawl around in.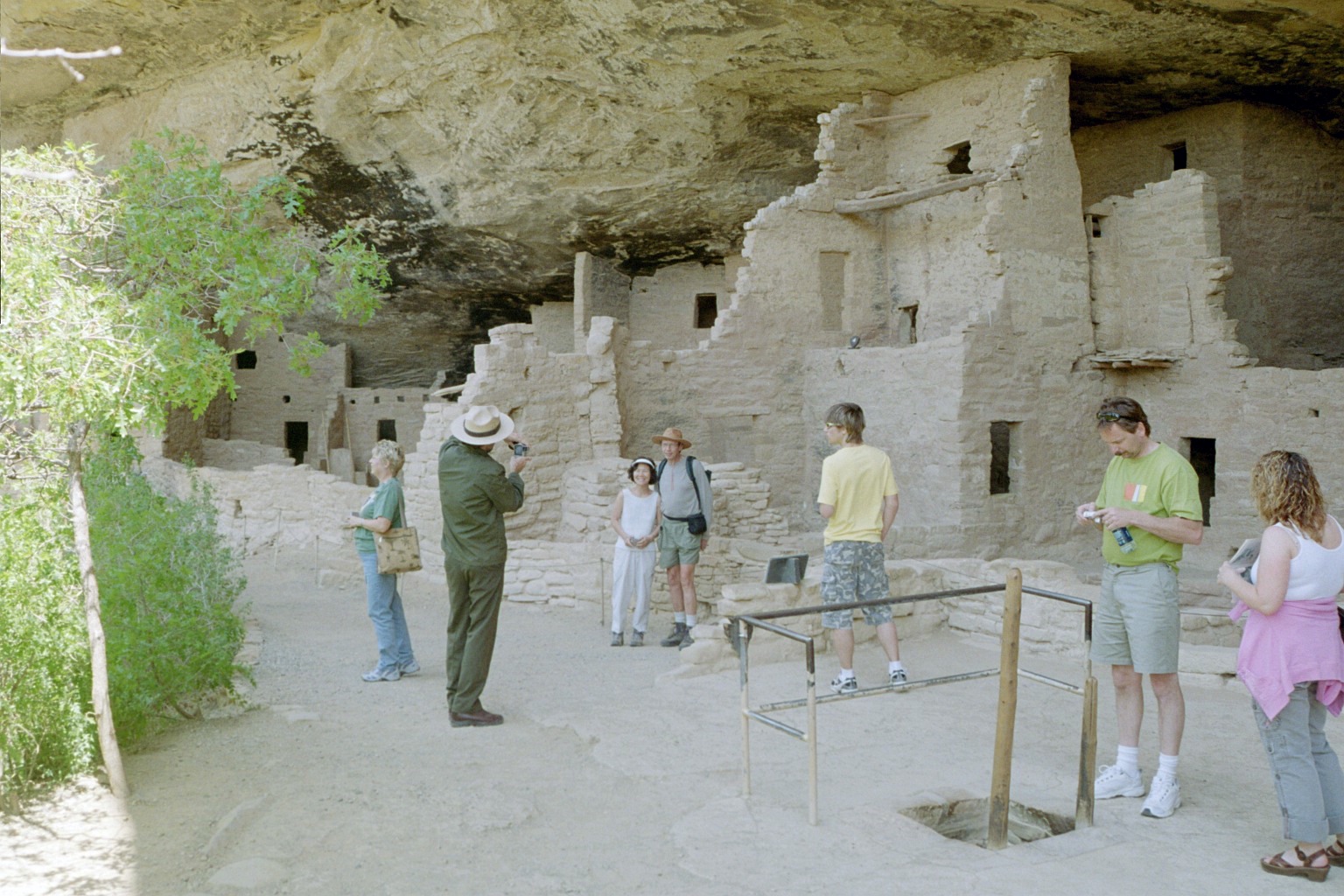 Mesa Verde - Balcony House up close. The hole in the ground is a Kiva - a ceremonial chamber. There are about 40 rooms at Balcony House.
There is a creek just below us to the left. Life was good 1500 years ago in southern Colorado. A warm room, plenty of water and game nearby.
Where did they put the satellite dish?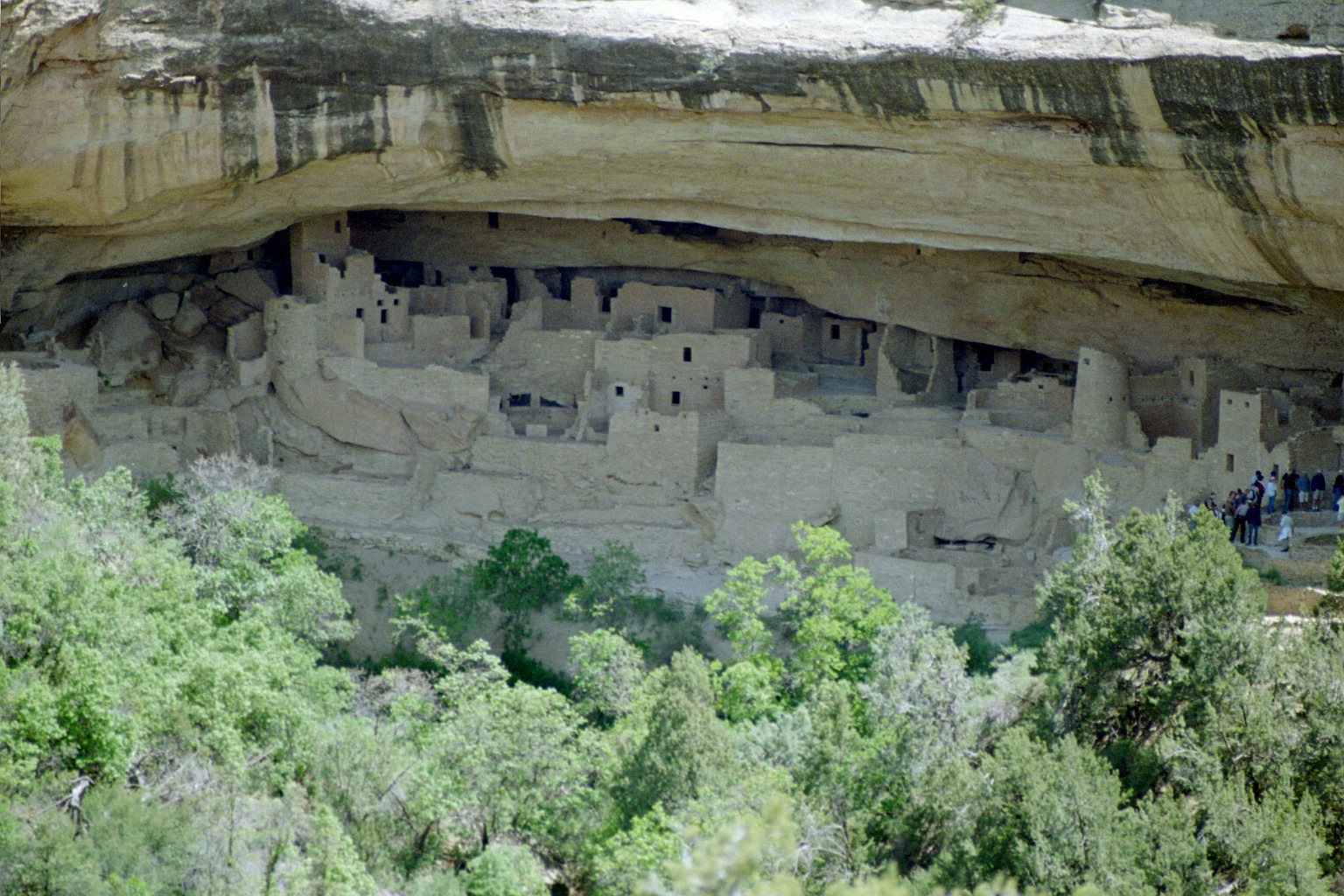 Mesa Verde - Cliff Palace, as seen from the mesa directly across from it. You can visit here too, but all you can do is stand in the group you see on the right.
You get there by climbing down a series of ladders and hiking a steep trail. It's a wonder more of us rotund, middle-aged folks don't fall. There are about
125 rooms in Cliff Palace.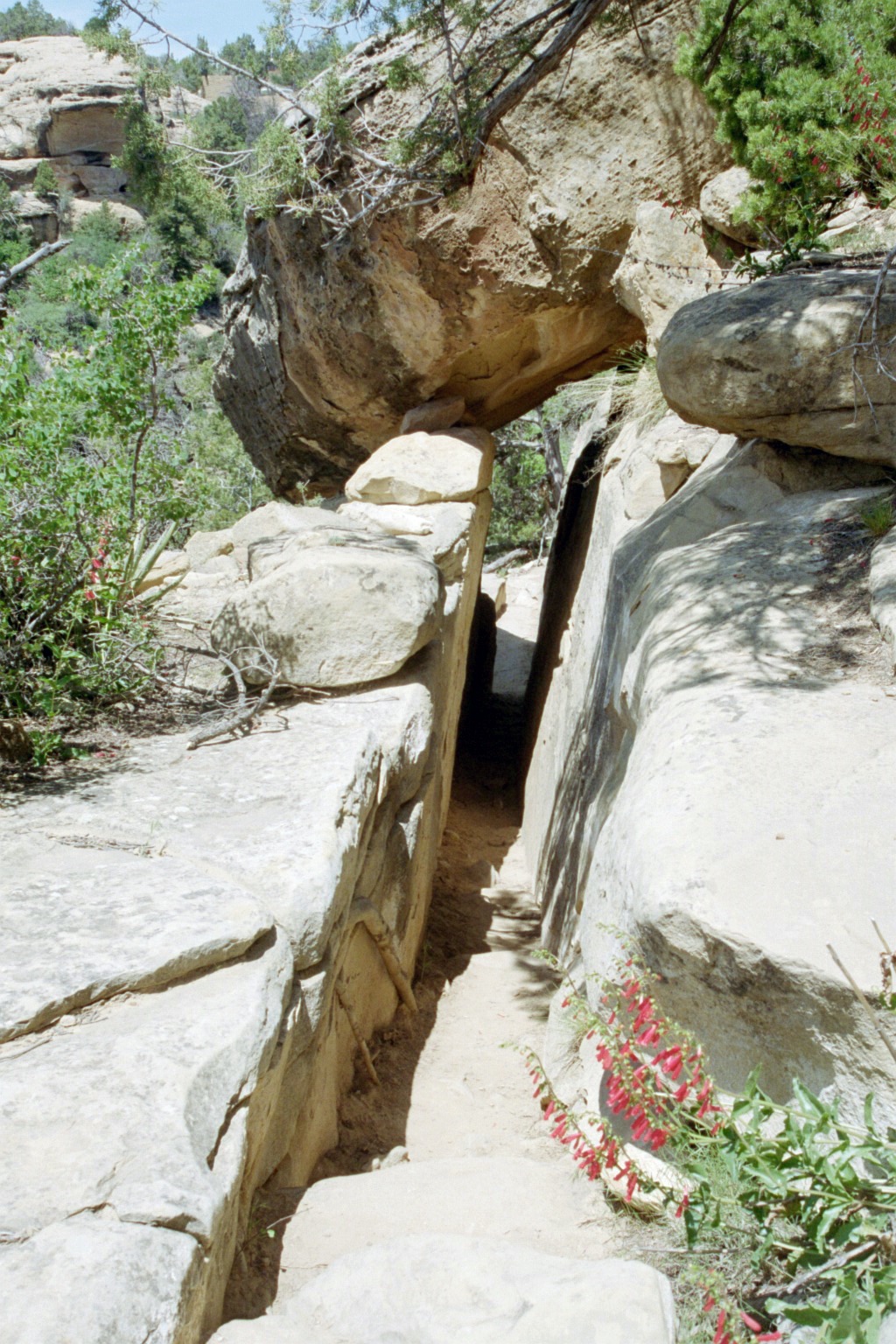 Mesa Verde Petroglyph Trail - The Petroglyph Trail is a four mile circle trail that starts from Balcony House,
at the bottom of the mesa, to the top of the mesa and then circles around back to the visitor center.
The trail is rugged, narrow and steep.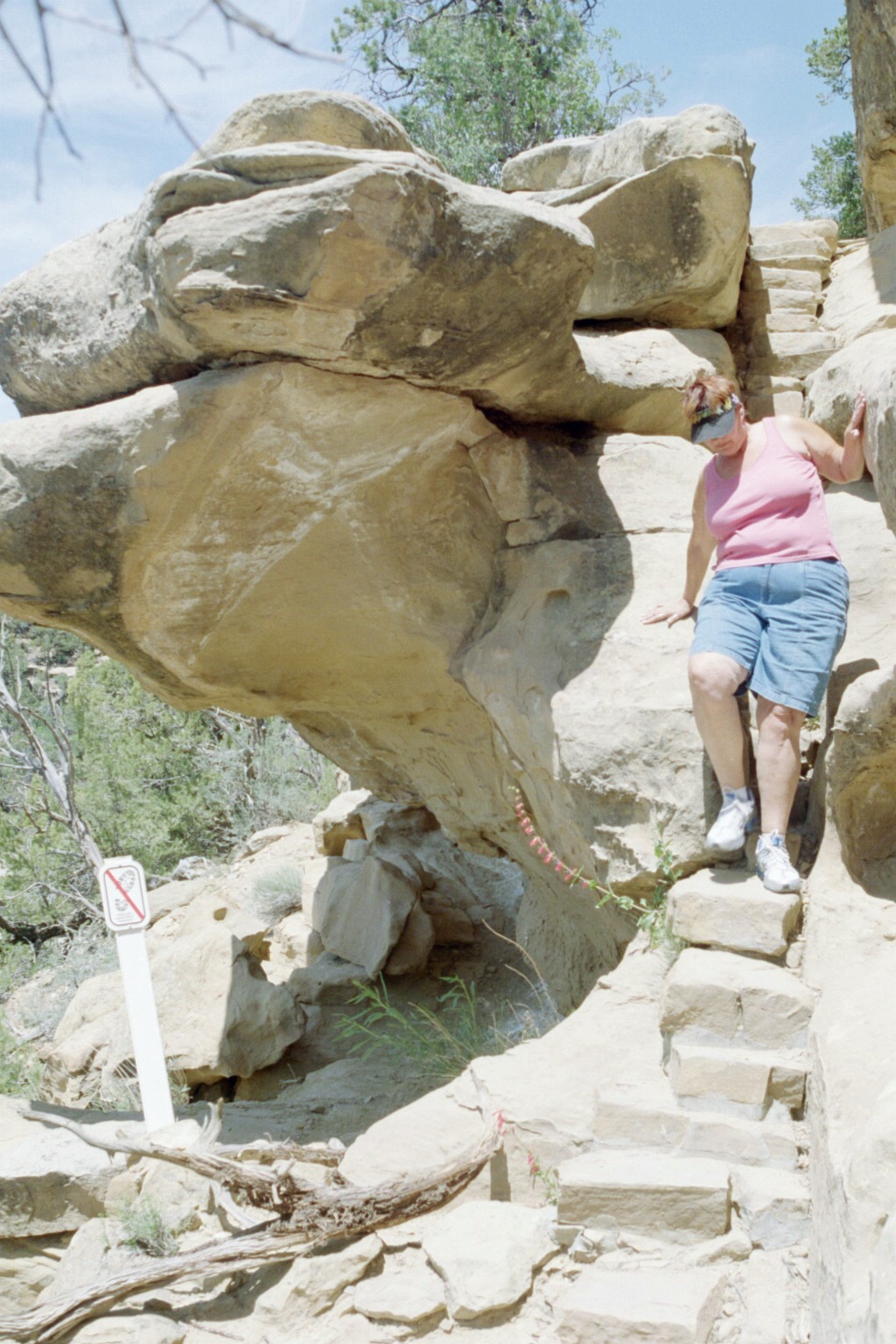 Mesa Verde Petroglyph Trail - Much of the trail was like this, but this wasn't the steepest part. Part of the tail
required free rock climbing - two hand holds, two foot holds and work your way up, with a 750 drop behind you
and no safety net. Irene is such a trooper. If she'd have known she had to do free rock climbing on vacation, she
would have stayed home.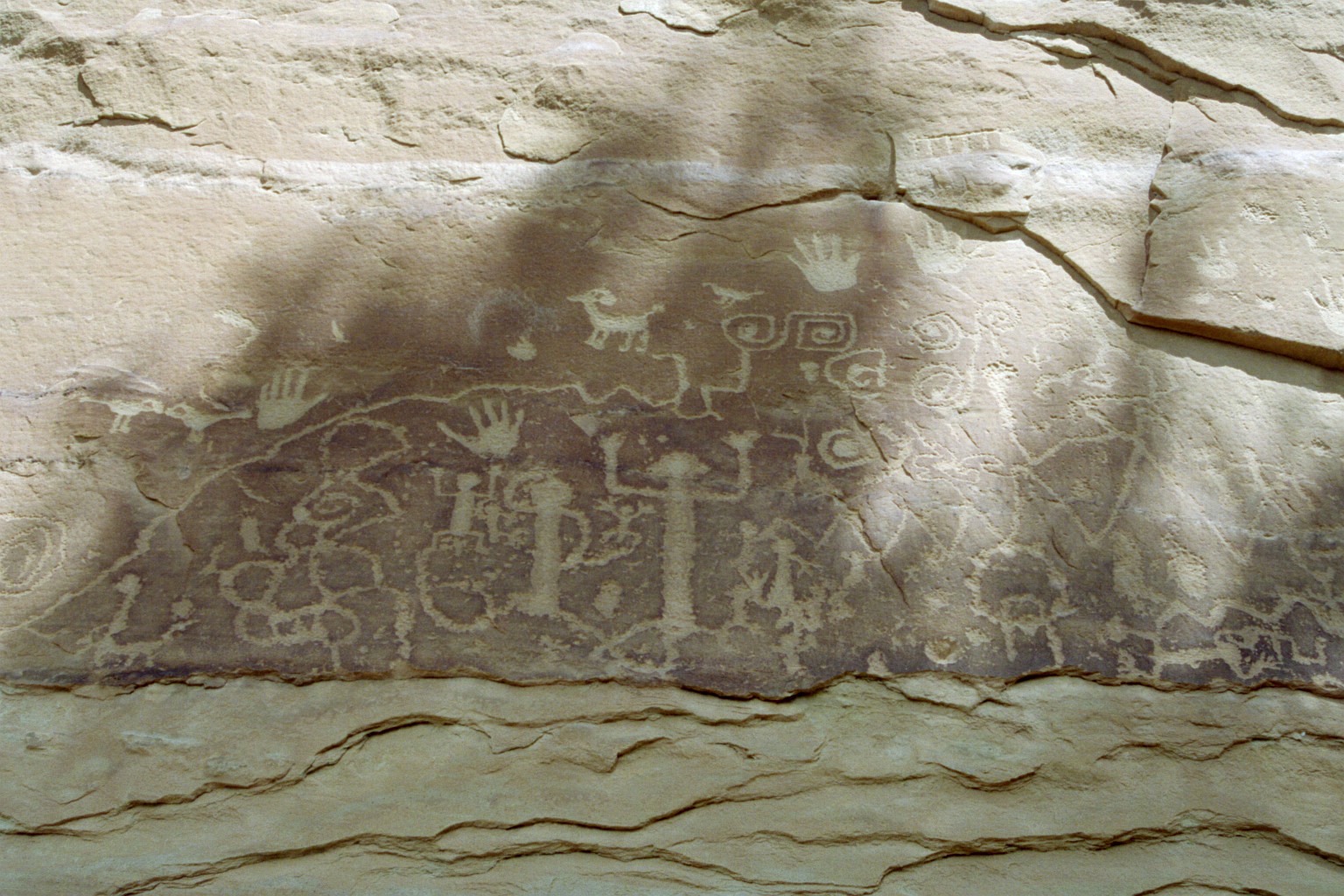 Mesa Verde Petroglyph Trail - They promised us petroglyphs. We found them. Do you read petroglyph? I don't.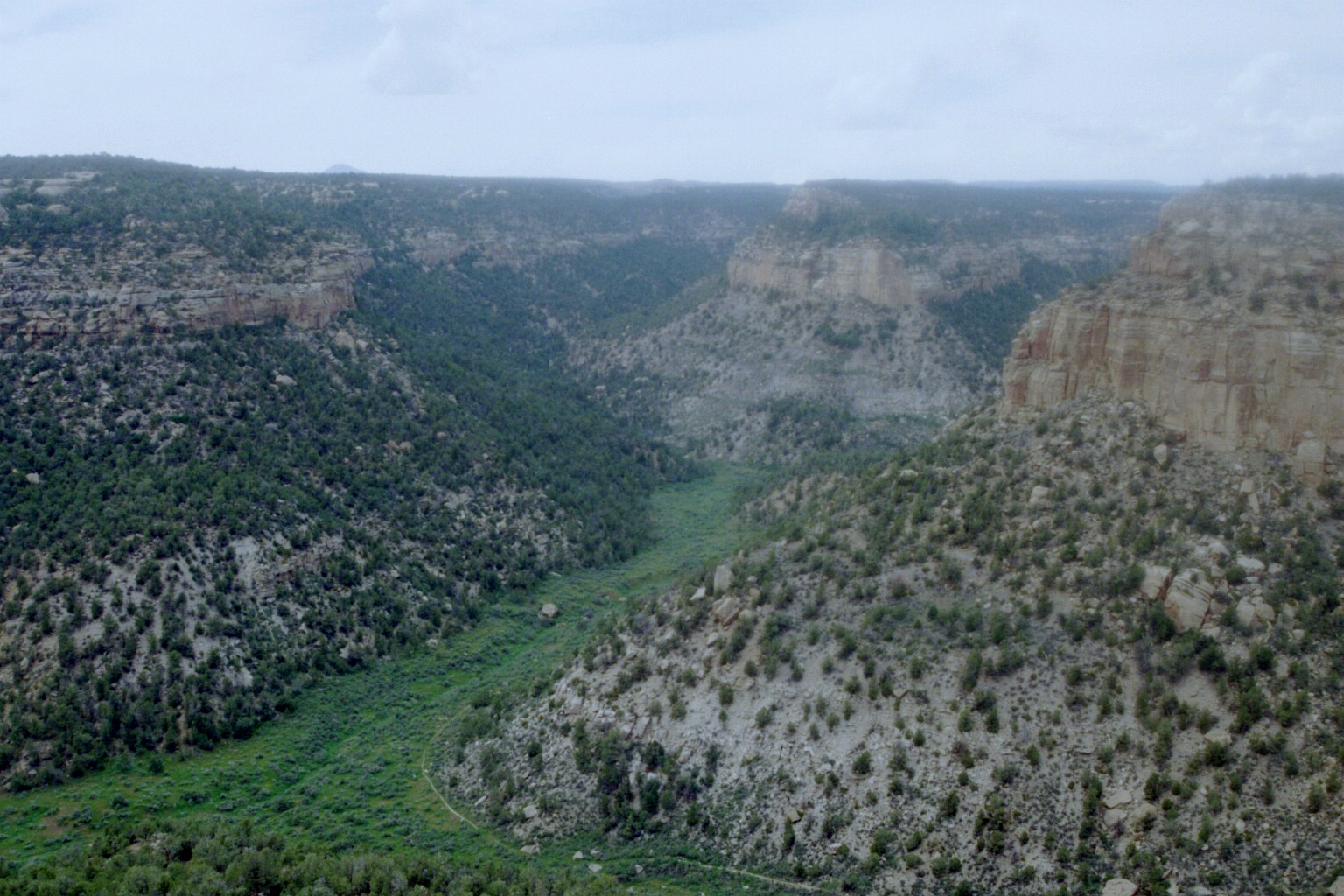 Mesa Verde Petroglyph Trail - View of three different mesas near the top of the one we were climbing. You can see part of the trail below.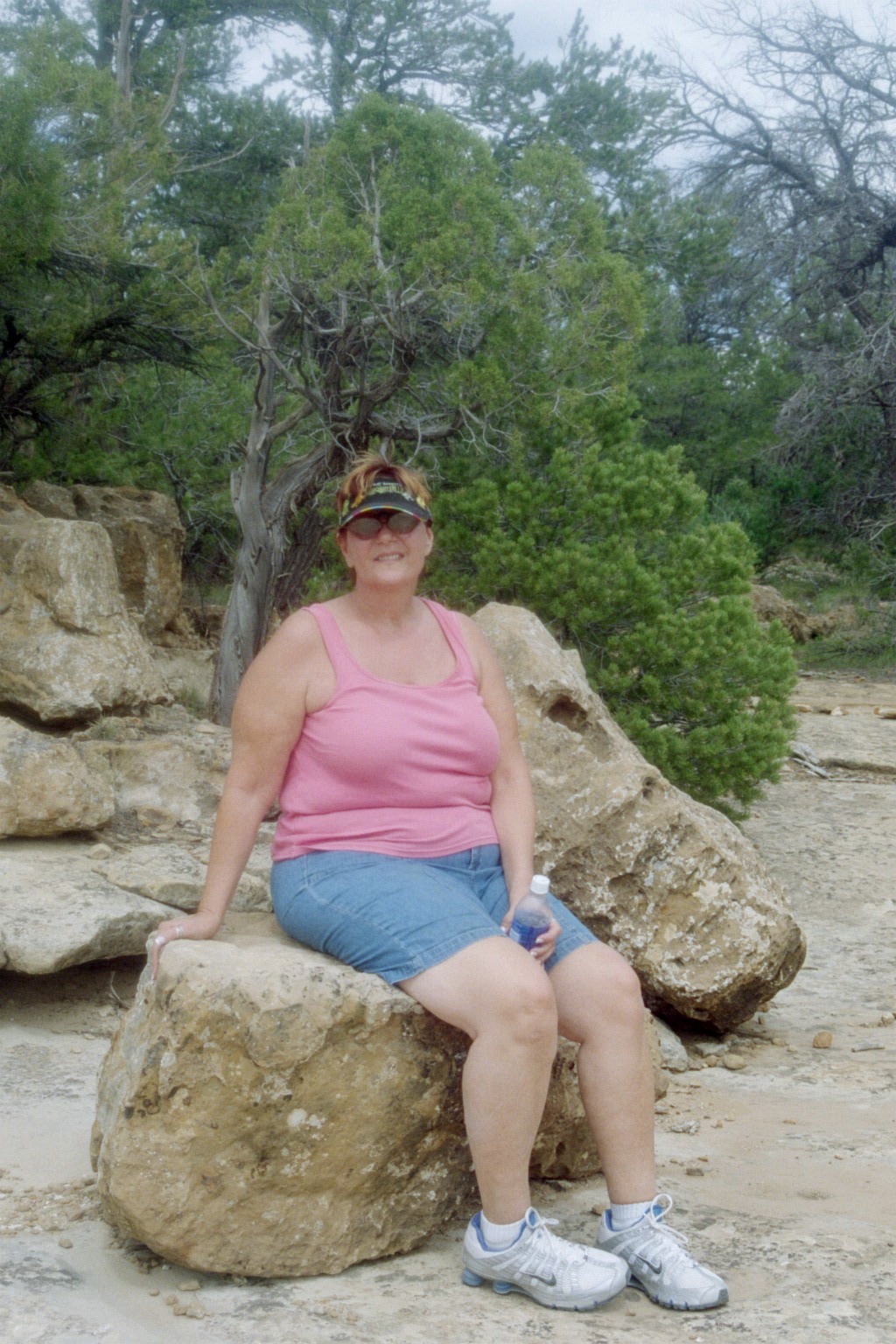 Mesa Verde Petroglyph Trail - Made it - or so we thought. There's actually about a quarter mile left to go,
but it is on the mesa top and was flat all the way back to the visitor center.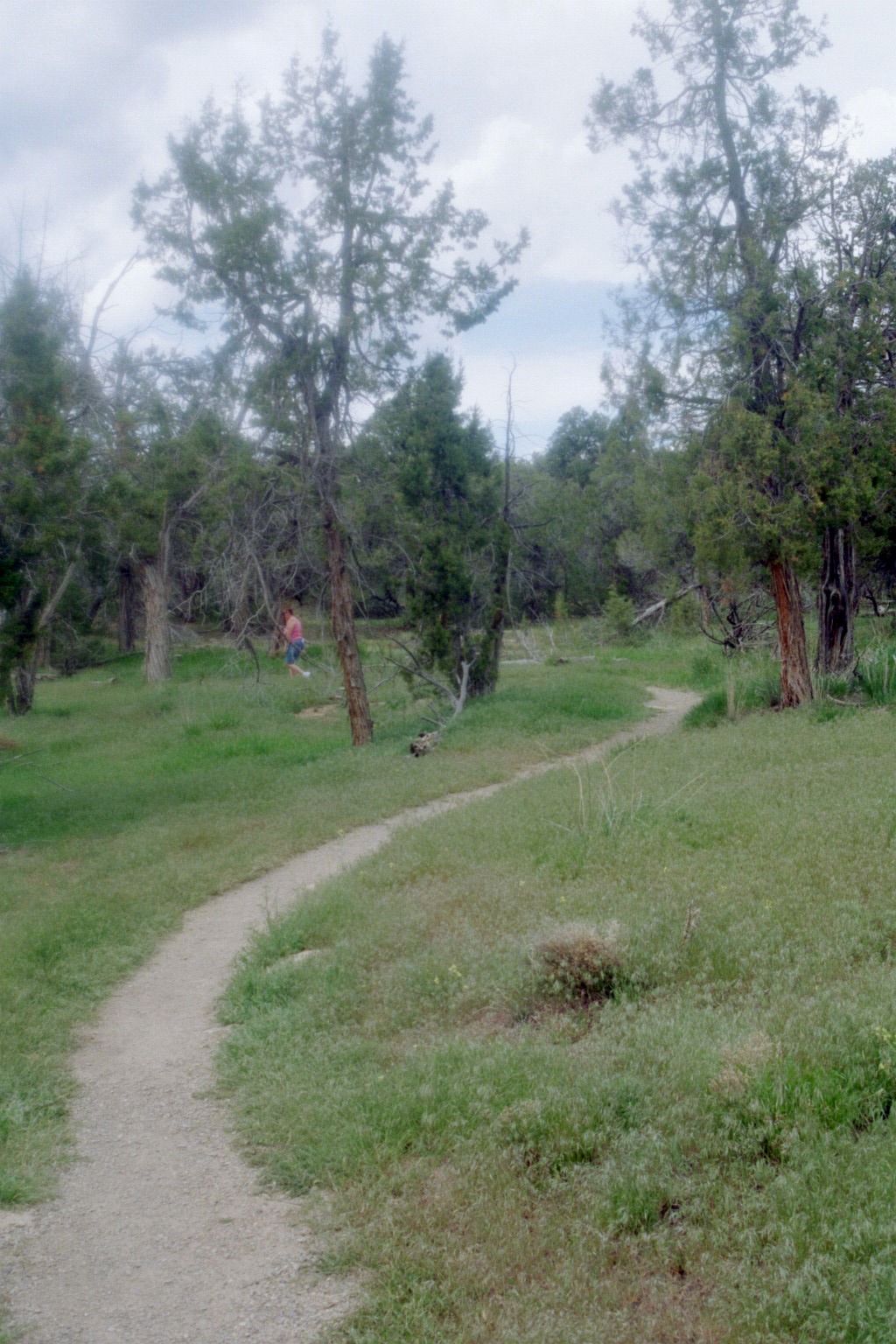 Mesa Verde Petroglyph Trail - Along the top of the mesa going back to the visitor center.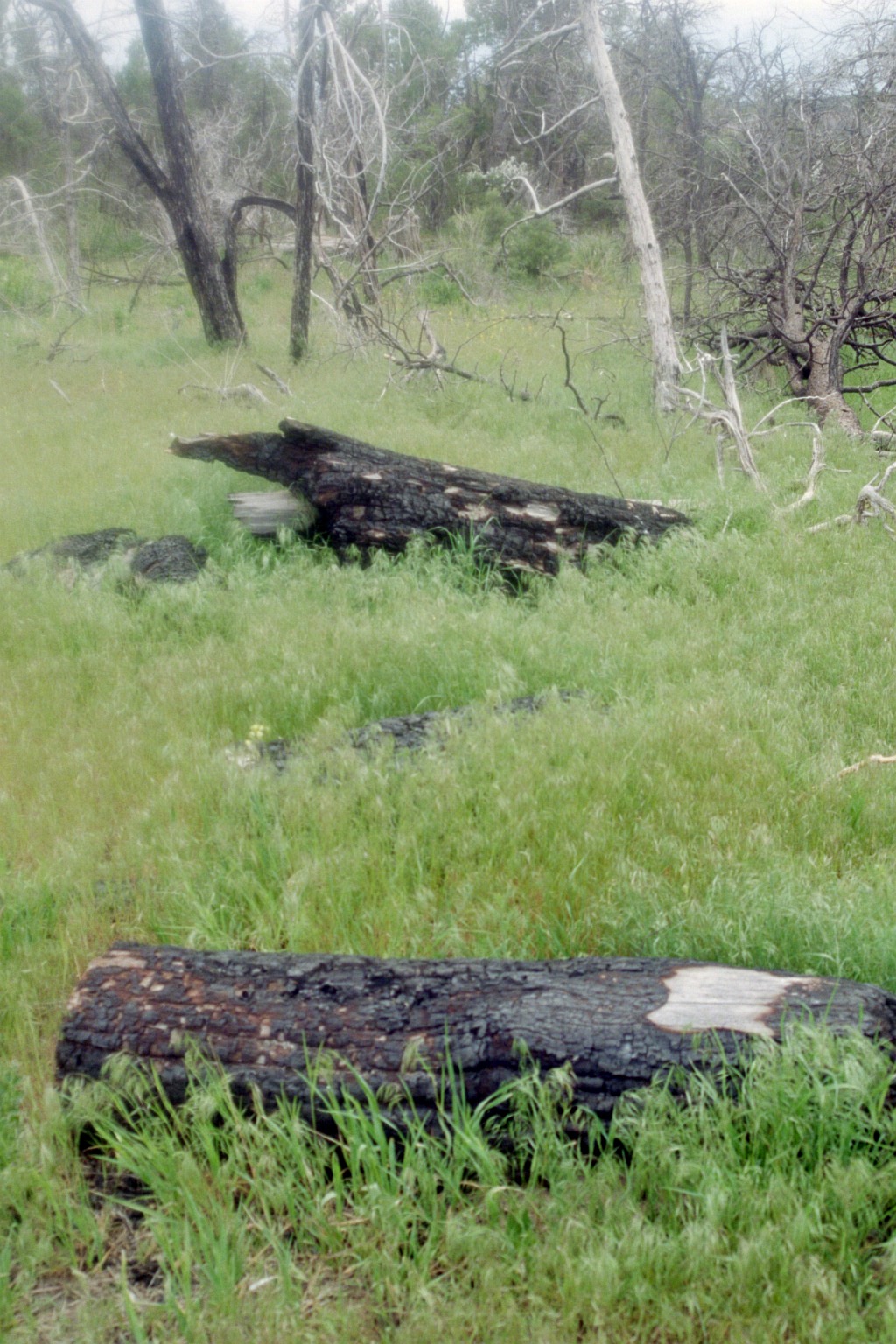 Mesa Verde Petroglyph Trail - Along the mesa top. There were massive fires at Mesa Verde in 2000 and 2002.
Much of the park was burned bare. It was a mixed blessing. After the fires, dozens of new archeological sites were
revealed. Its recovering well, but much of the pinyon pine and juniper trees are gone.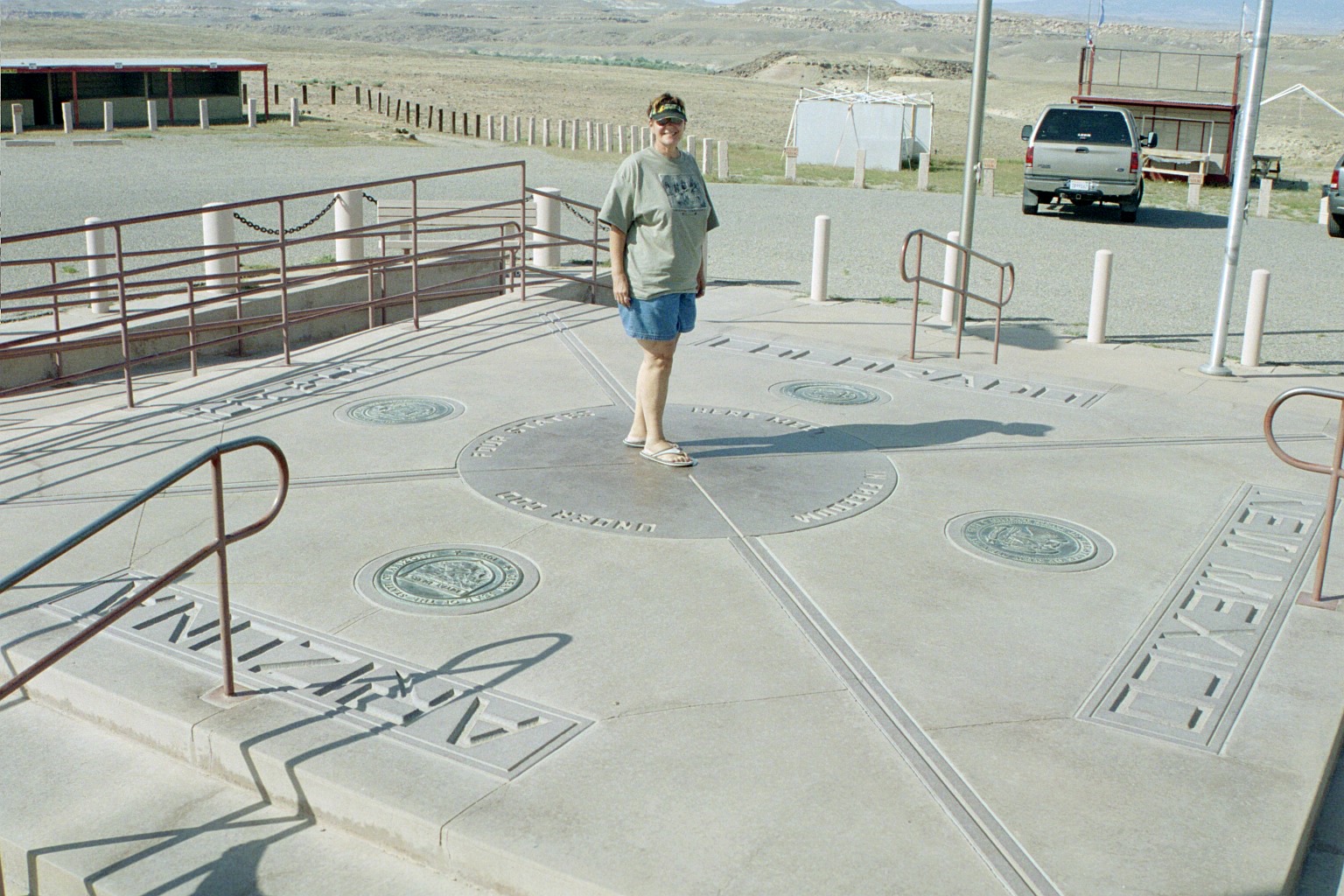 Four Corners Monument - The only place in the United States where four states actually touch. Trivia Time - Question - What state has seven other
states touching it? Hint - There's only one.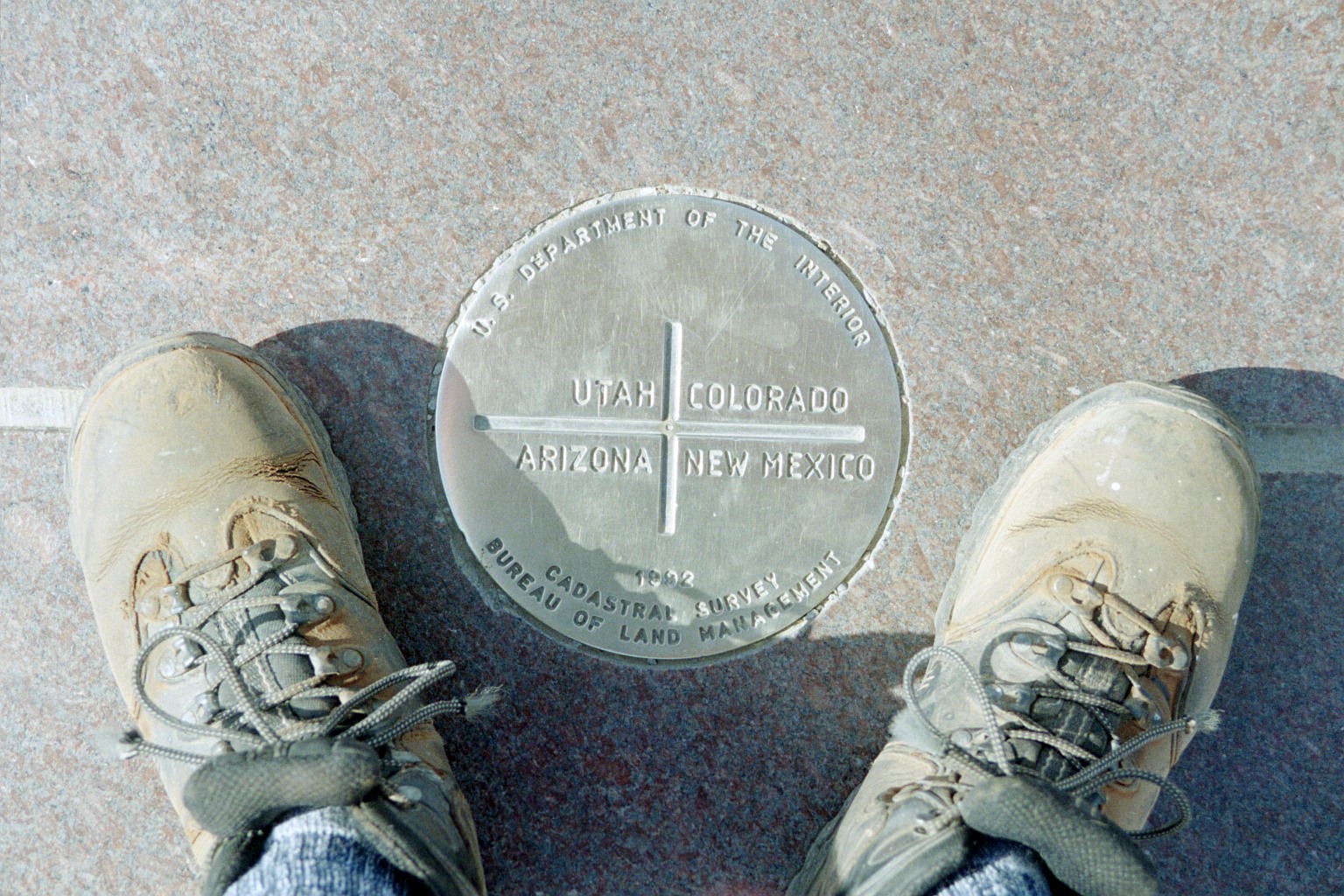 Ralph at the Four Corners Monument. Trivia Time - Answer - Tennessee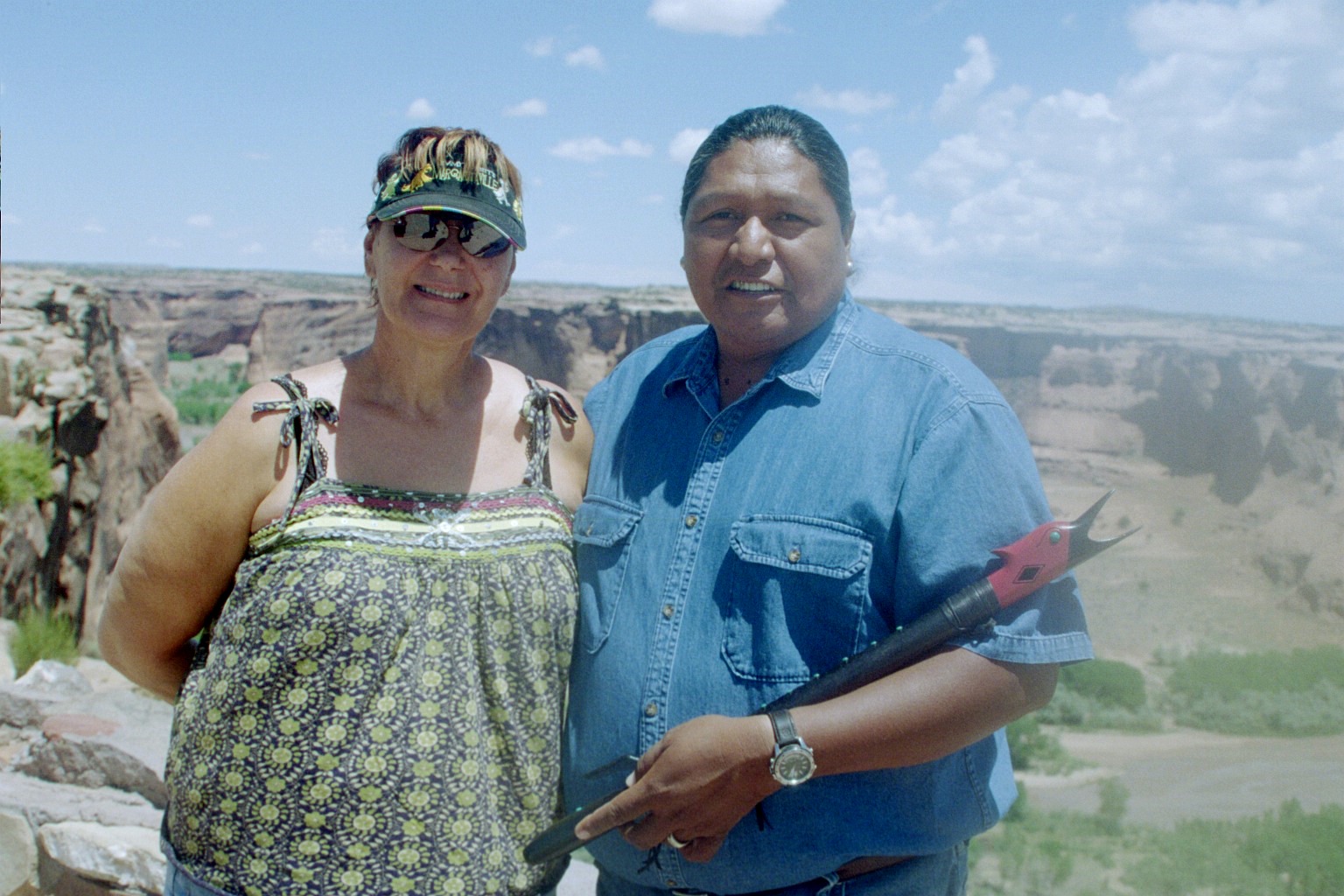 Next on the roadtrip was Canyon de Chelly (de Shay) in northeastern Arizona. This is Irene and Travis Terry. Travis is a Navajo artisan, who makes
high-end jewelry, designs native american flutes and is a recording artist. Buyers from Tiffany's cleaned most of his stuff out a couple of days before we
got there. I got Irene a pair of nice turquoise earings. Most of his necklaces were $300~$500. I told him about David and his native american flute work,
and he gave us one of his CD. It's pretty good.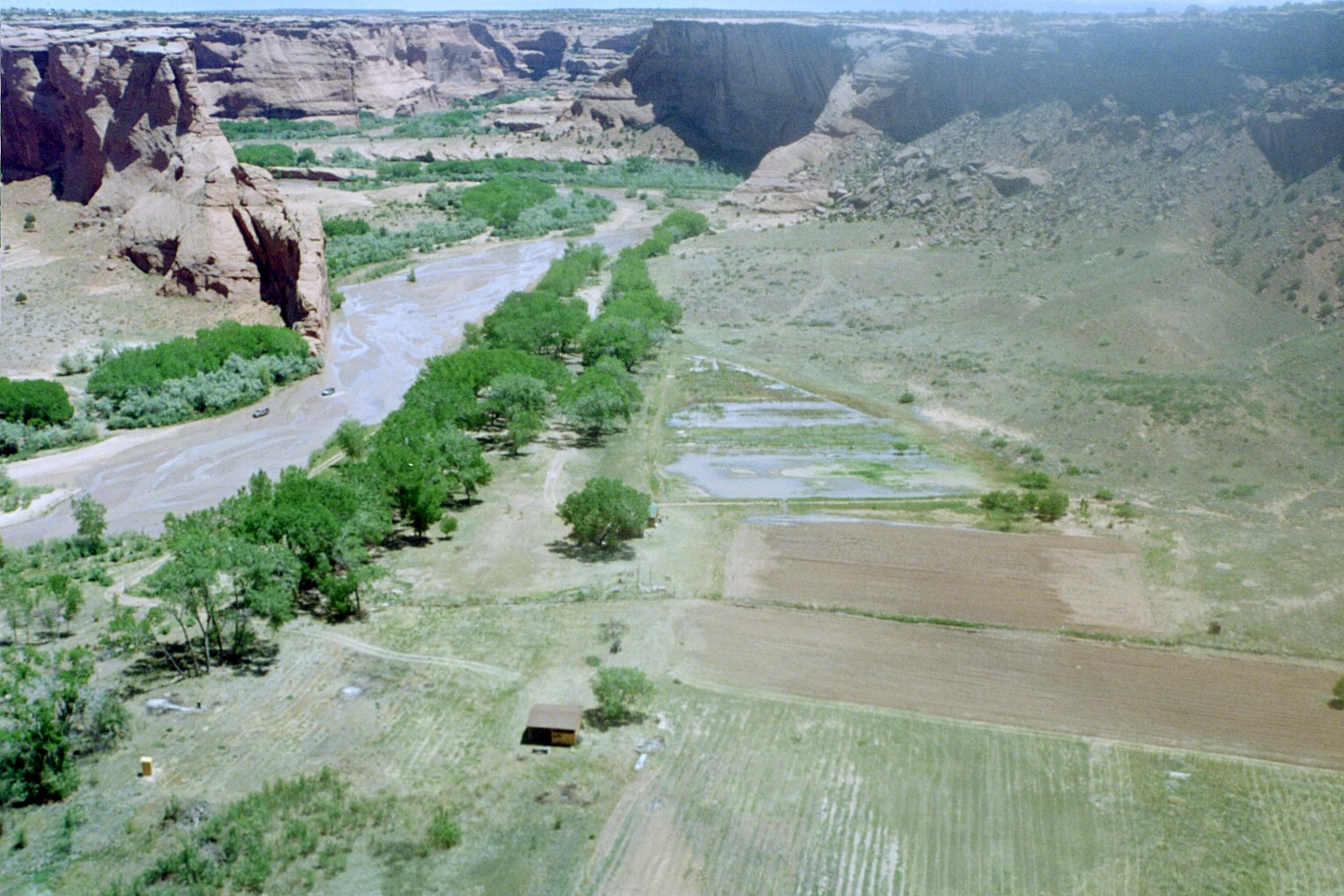 Canyon de Chelly - This is part of Travis's farm on the canyon floor. Native americans have inhabited Canyon de Chelly for about 5000 years.
The farms are mostly subsistance farms. They grow their own crops of mostly corn, squash, beans, peaches, sheep and goats. You can see vehicles
on the creek bed. Nobody is allowed in the canyon without a native escort. It's a way to protect the environment as well as creating an income stream for
the canyon residents.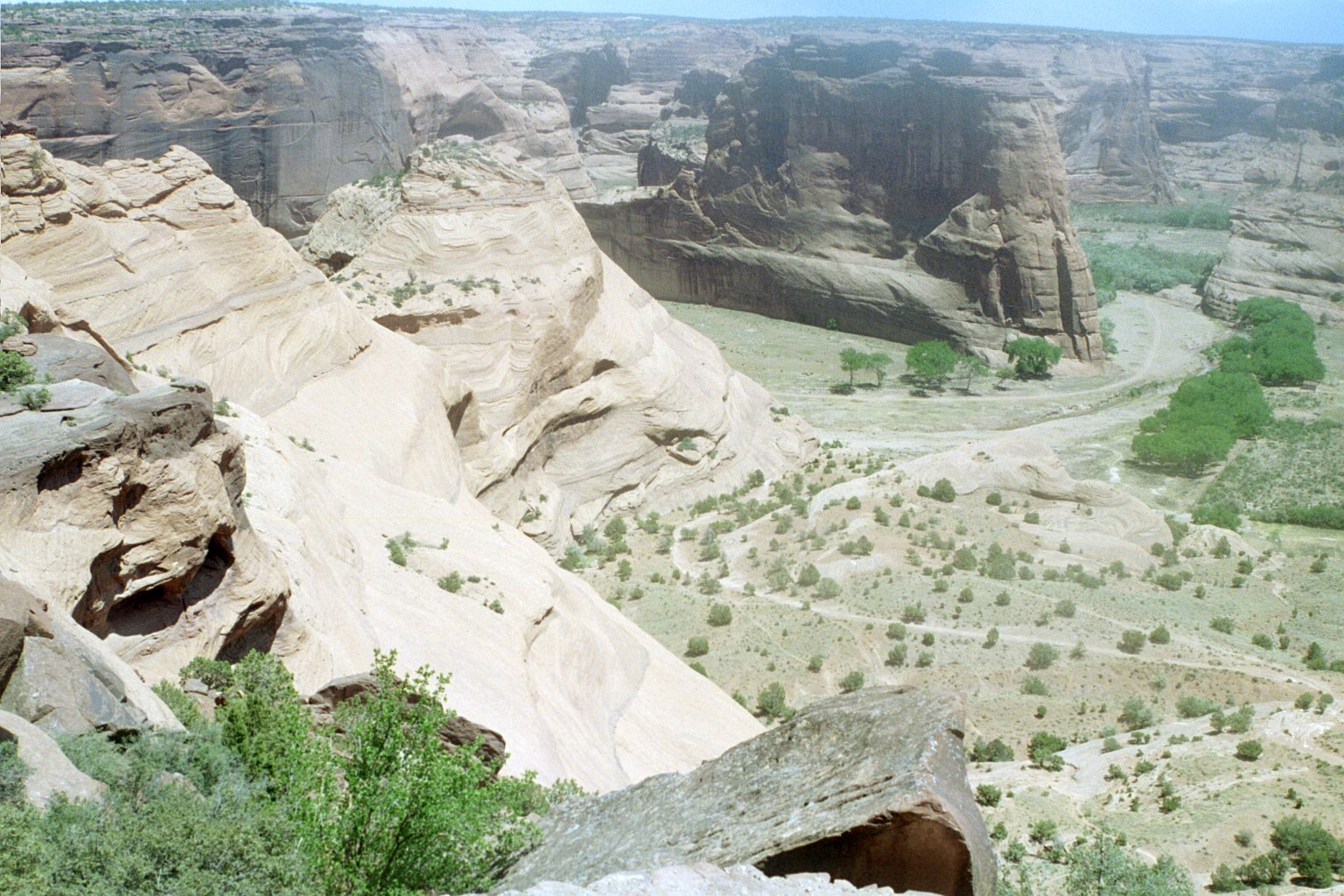 Canyon de Chelly - White House Trail - The only trail in the canyon is the White House Trail. You can take it unescorted, but you have to stay within
certain boundries. The trail is five miles in and out. It's not as rugged as the Petroglyph Trail at Mesa Verde, but it is steep. In addition, the elevation is about
6000 feet. Pretty high for flatlanders like us.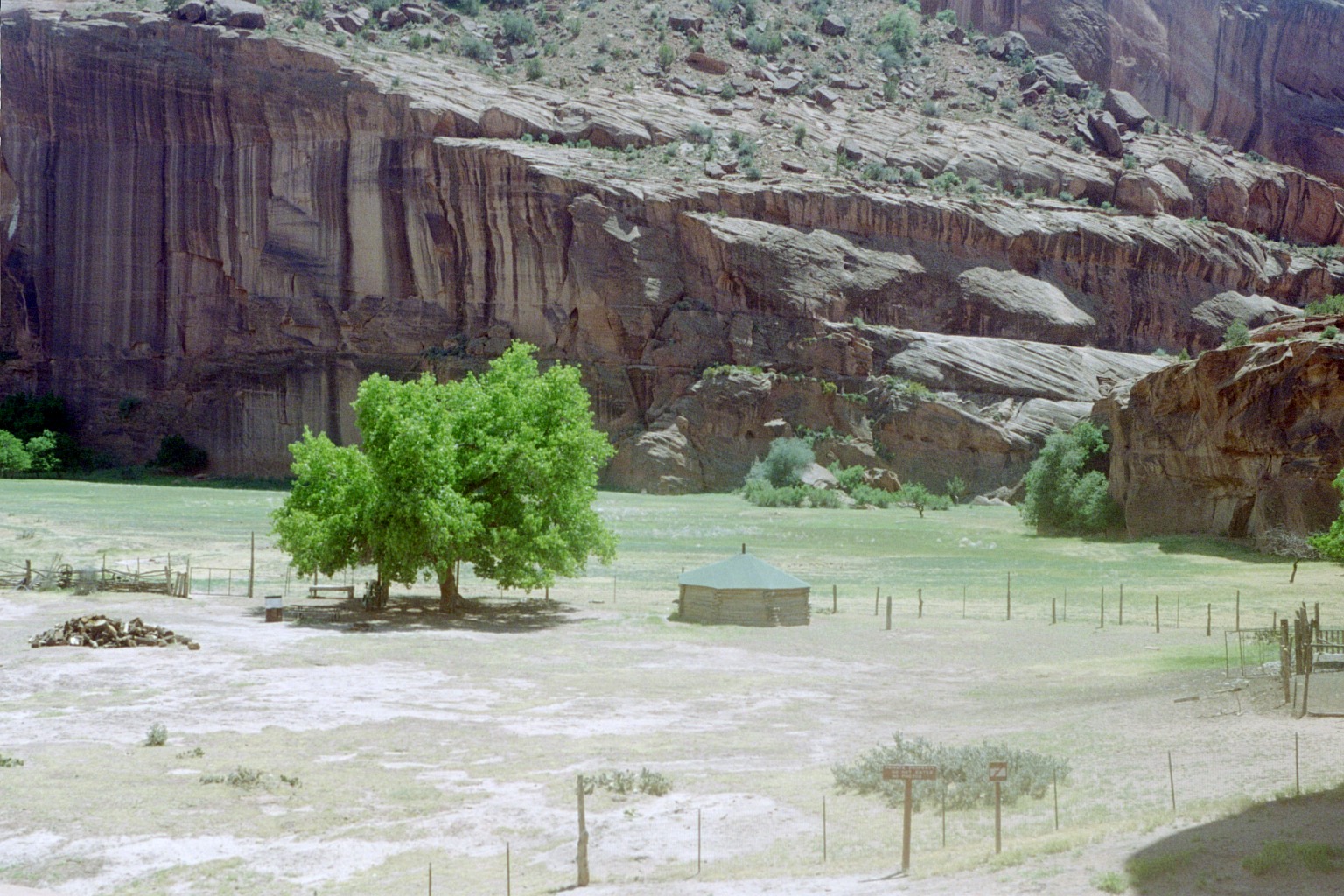 Canyon de Chelly - White House Trail - As you approach the canyon floor, the individual farms begin to take shape and become clearer. The structure
you see is a Hogan (a traditional Navajo dwelling). It's got a dirt floor and no windows. This one has a shingle roof, but more traditional ones have a roof
made of logs with dirt piled on top. There is one at the visitor center. It was 100 degrees (but its a dry heat - yeah right) outside, and inside the hogon it
couldn't have been more than about 75 degrees. Take a look at the Inside of a Traditional Hogan.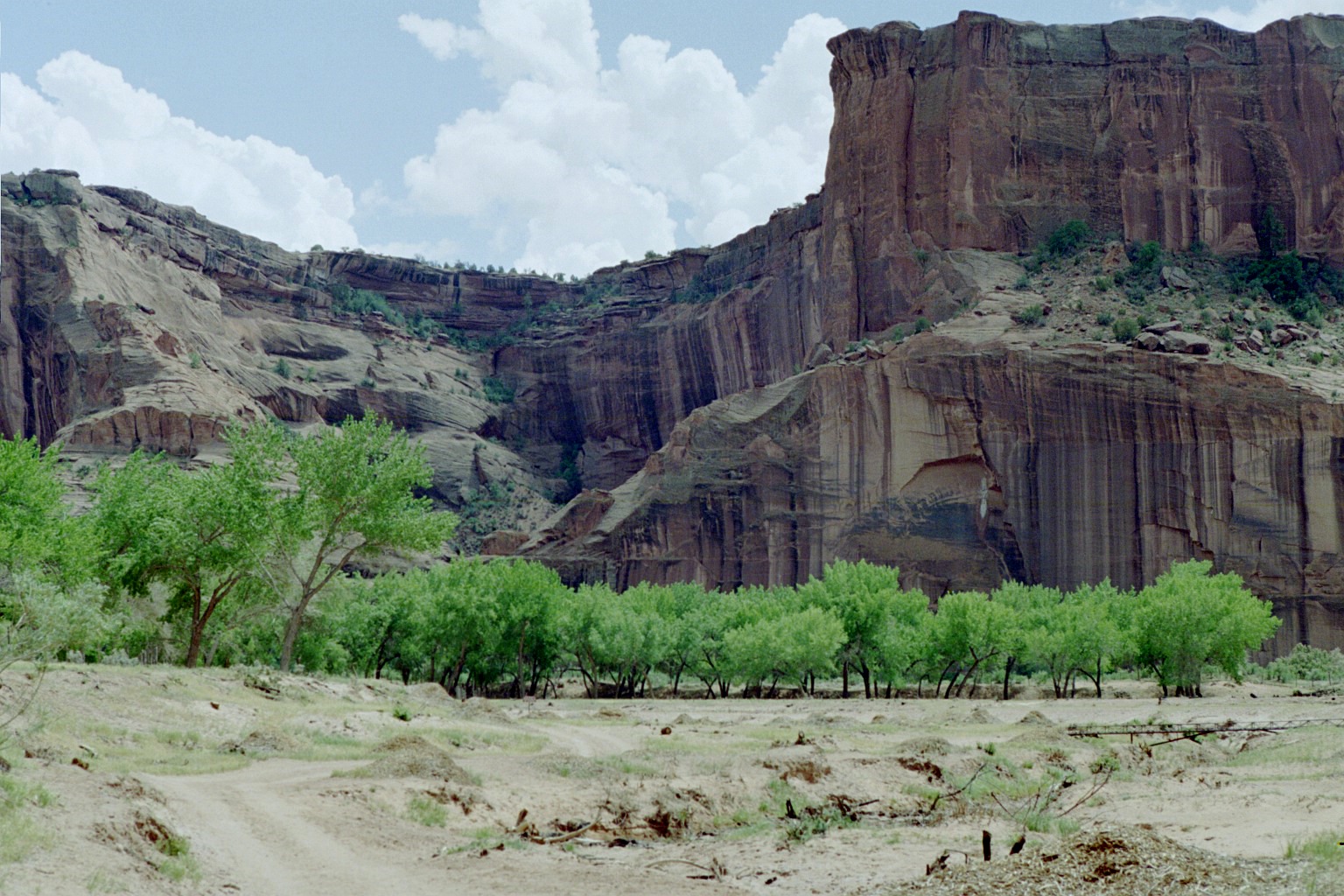 Canyon de Chelly - White House Trail - The canyon floor is hotter that the mesa top. There isn't as much breeze. That's uncomfortable in the summer,
but it is helpful in the winter. It's warmer then too on the canyon floor and the rocks radiate heat.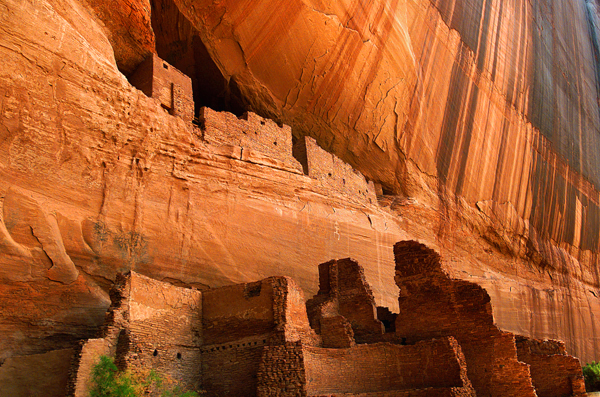 Canyon de Chelly - White House Trail - The trail takes you to The White House. This is where the canyon residents lived about 1200 years ago.
This ruin is one of about 50 in the canyon. There is a fence blocking access, but that's alright. Visitors would probably destroy it.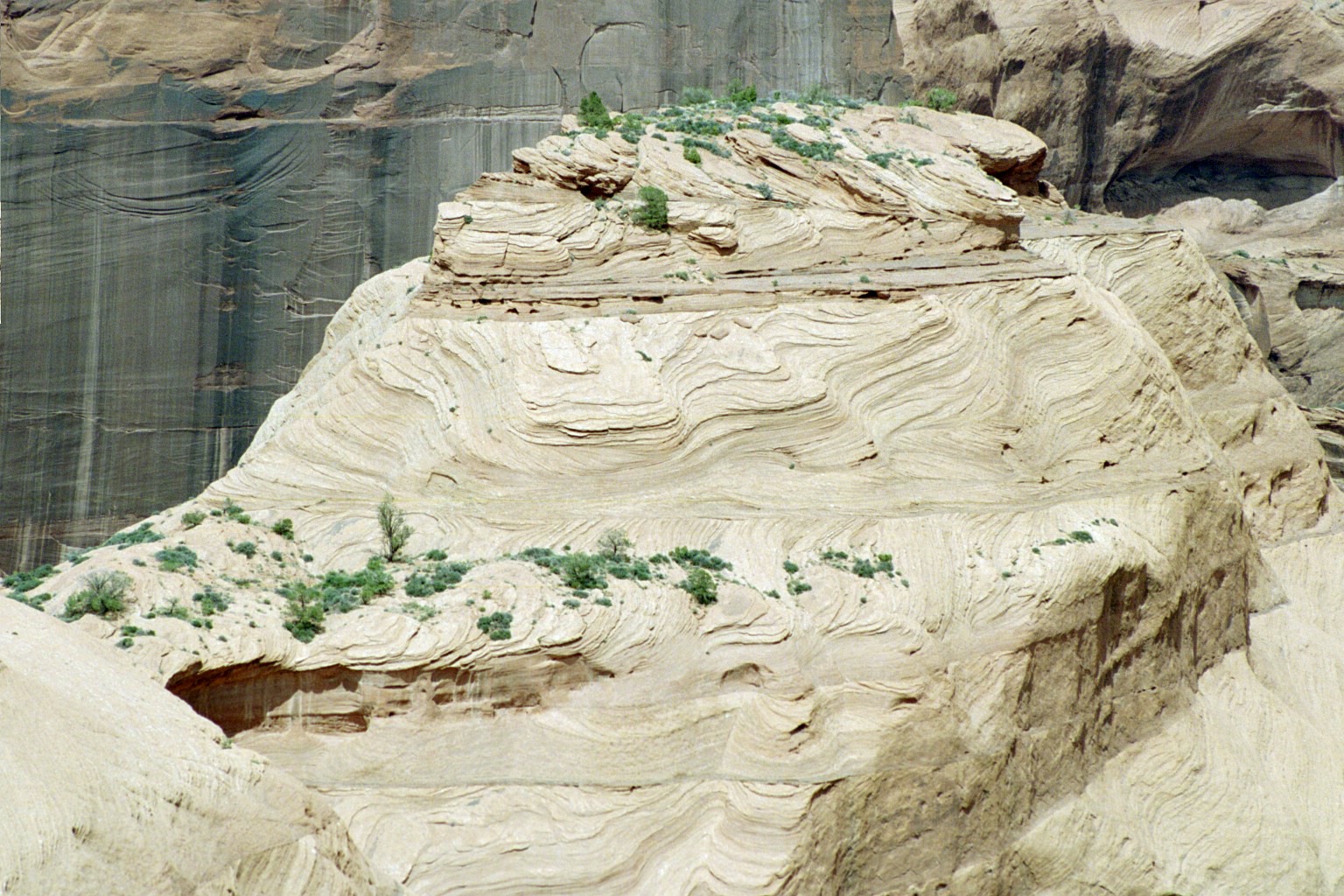 Canyon de Chelly - White House Trail - The shapes in the sandstone are amazing. This curvy strata is proof that there was an ocean here in the distant past.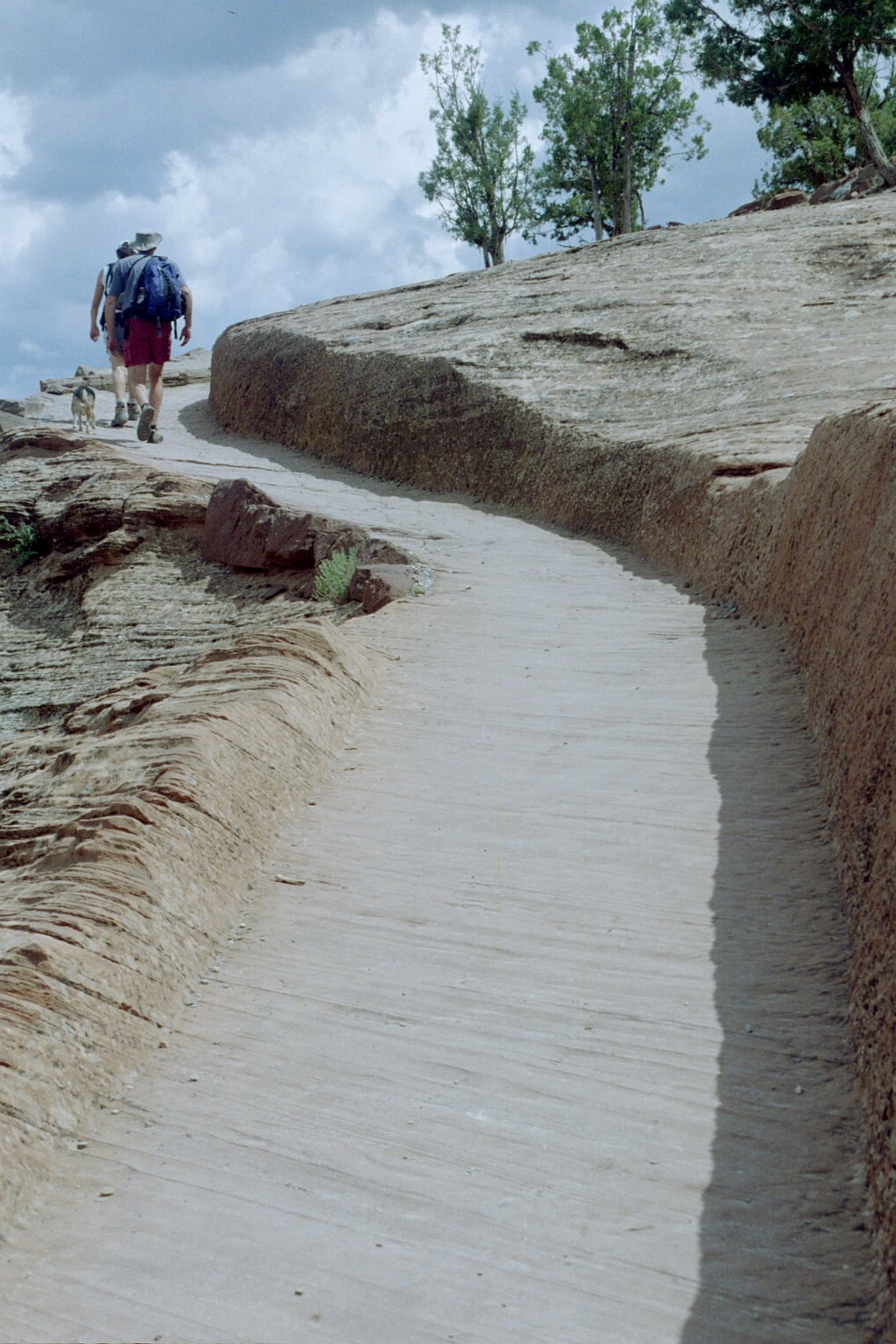 Canyon de Chelly - White House Trail - The trail was chipped out of the living rock several hunderd years ago.
Colorado River Overlook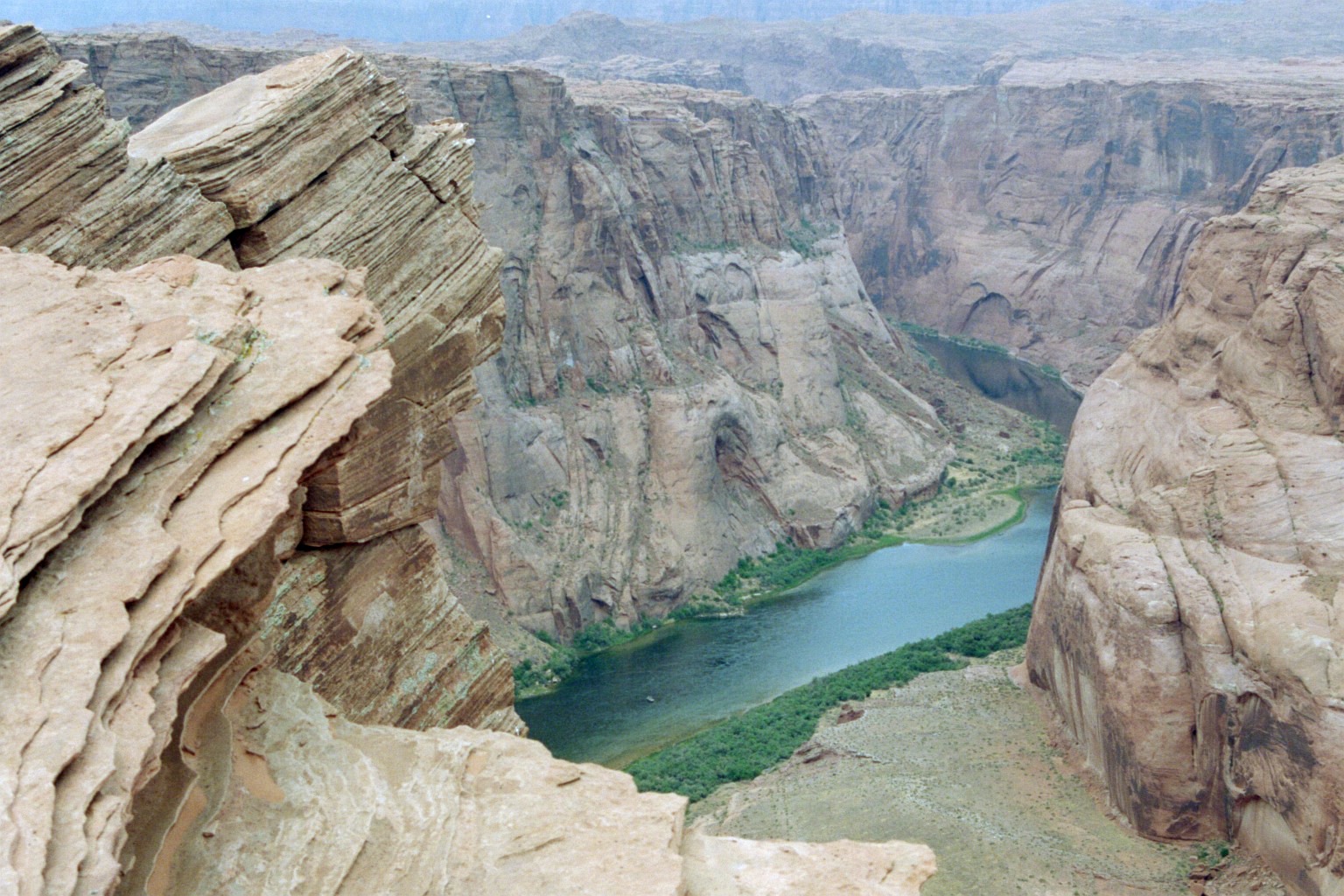 Our next stop was a surprise. We hadn't planned it - it was just there. The Colorado River Overlook in Page, Arizona. Page is in north central Arizona on
the Utah border. Page is where Glen Canyon Dam and Lake Powell are located. We didn't get to visit them on this trip, but the overlook was spactacular.
No rails or other safety measures. It's just there (after a three mile hike of course).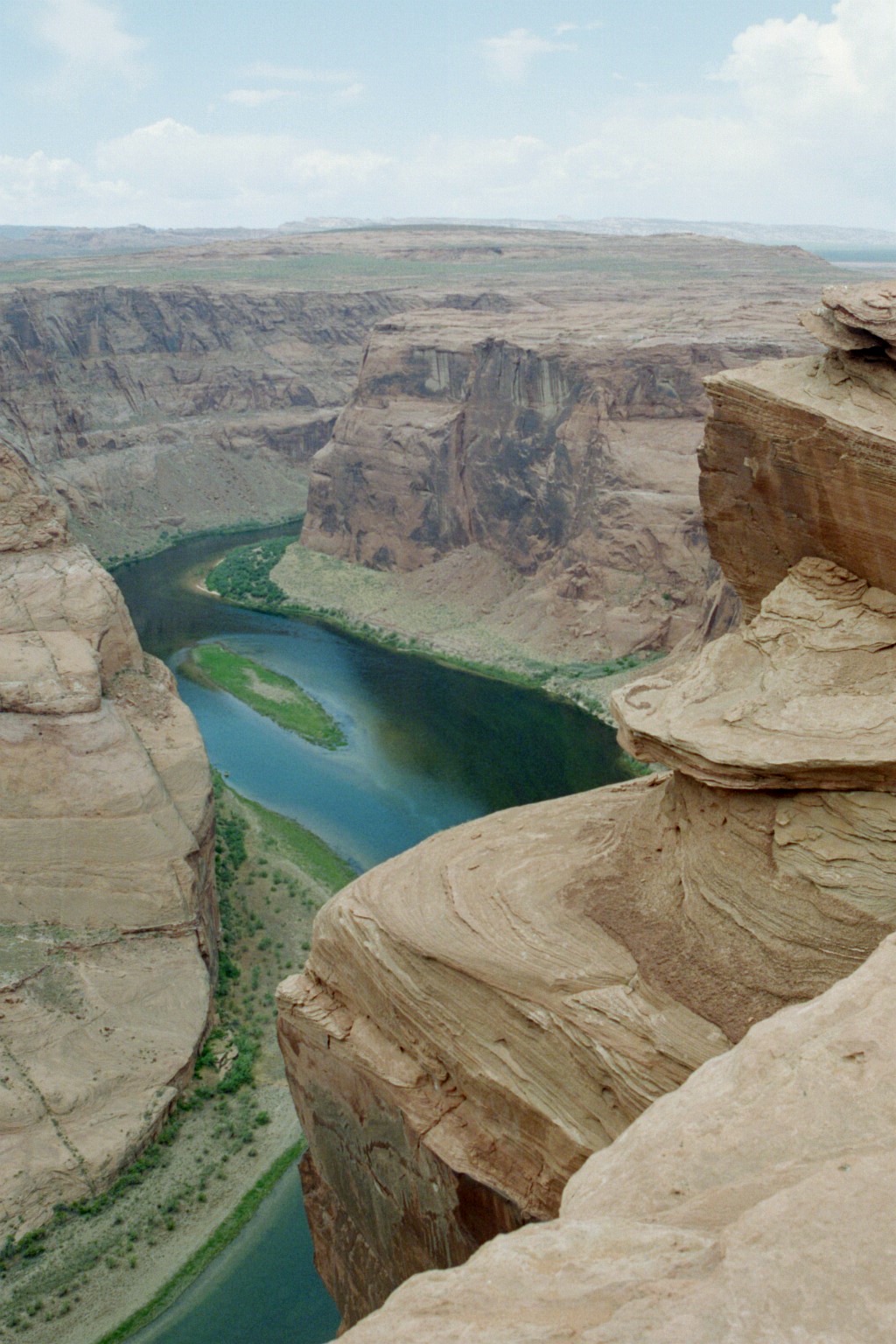 Colorado River Overlooks - You can't really get the whole thing in your vision, especially with a camera. It's just too big.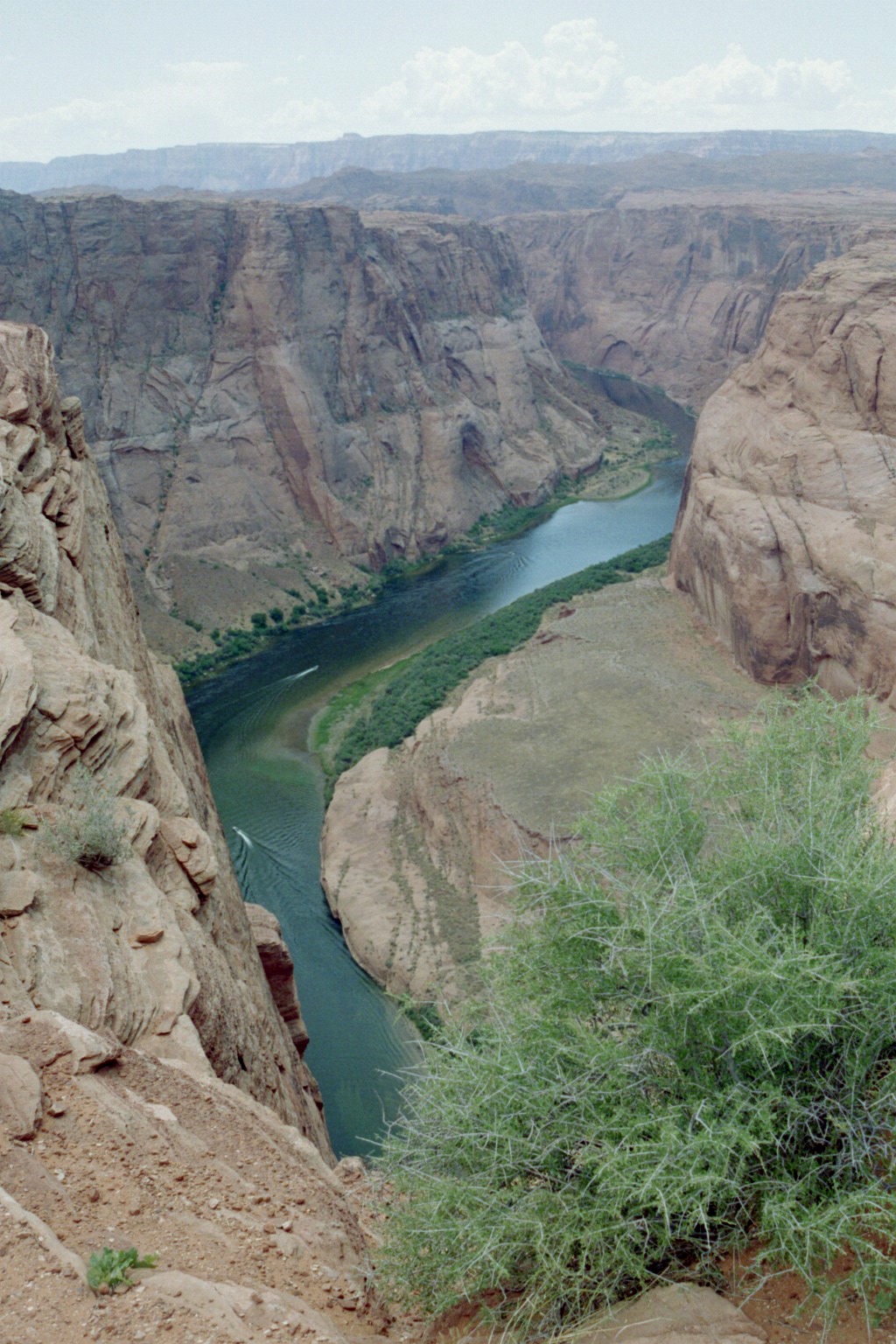 Colorado River Overlooks - Those little things on the water are boats.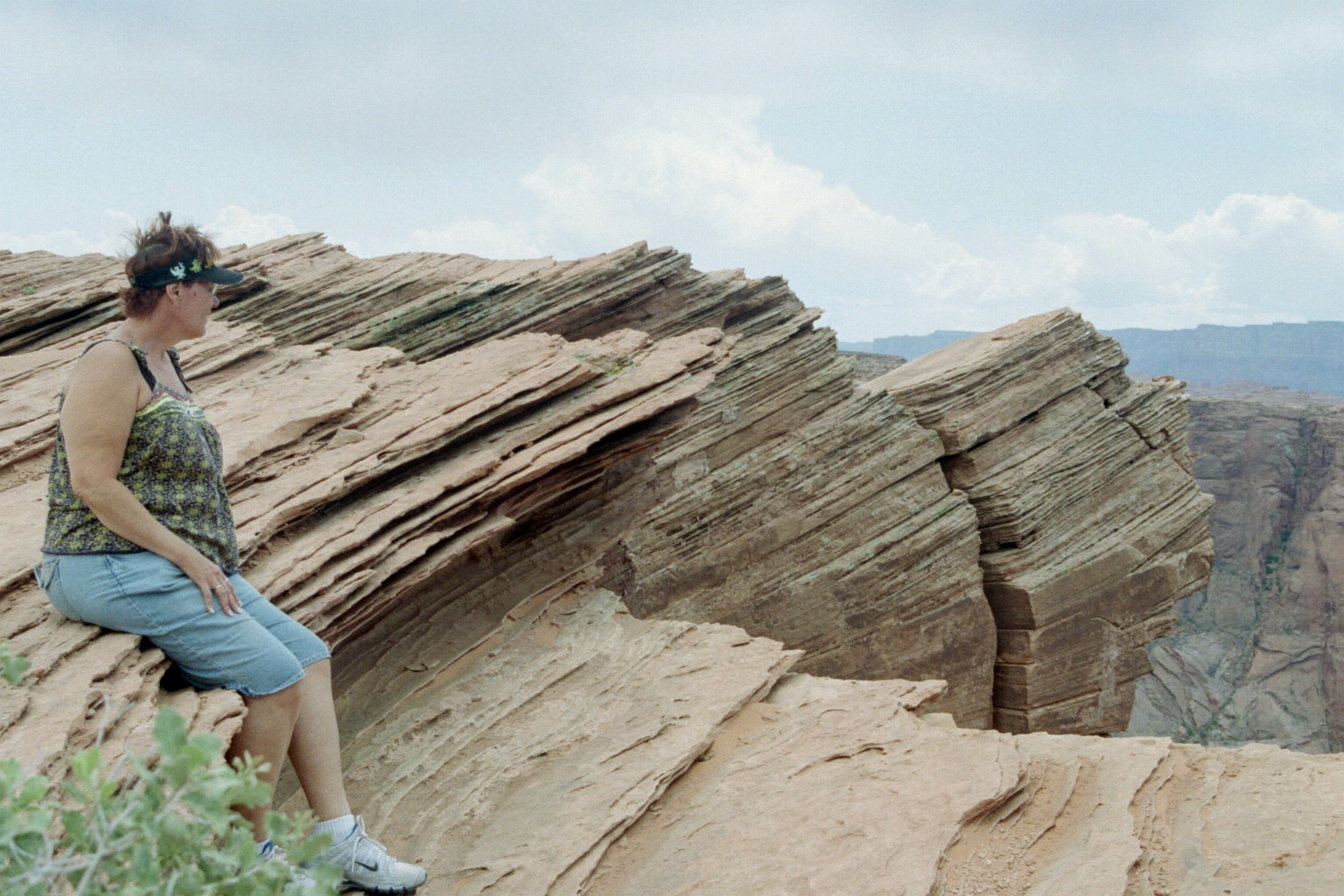 Colorado River Overlooks - That is about as close to the edge as Irene wanted to get. People would walk up and stop about 15 feet back from the edge,
drop onto their hands and knees, and creep up to the edge. Notice the roughly triangular rock hanging off the right side of the picture.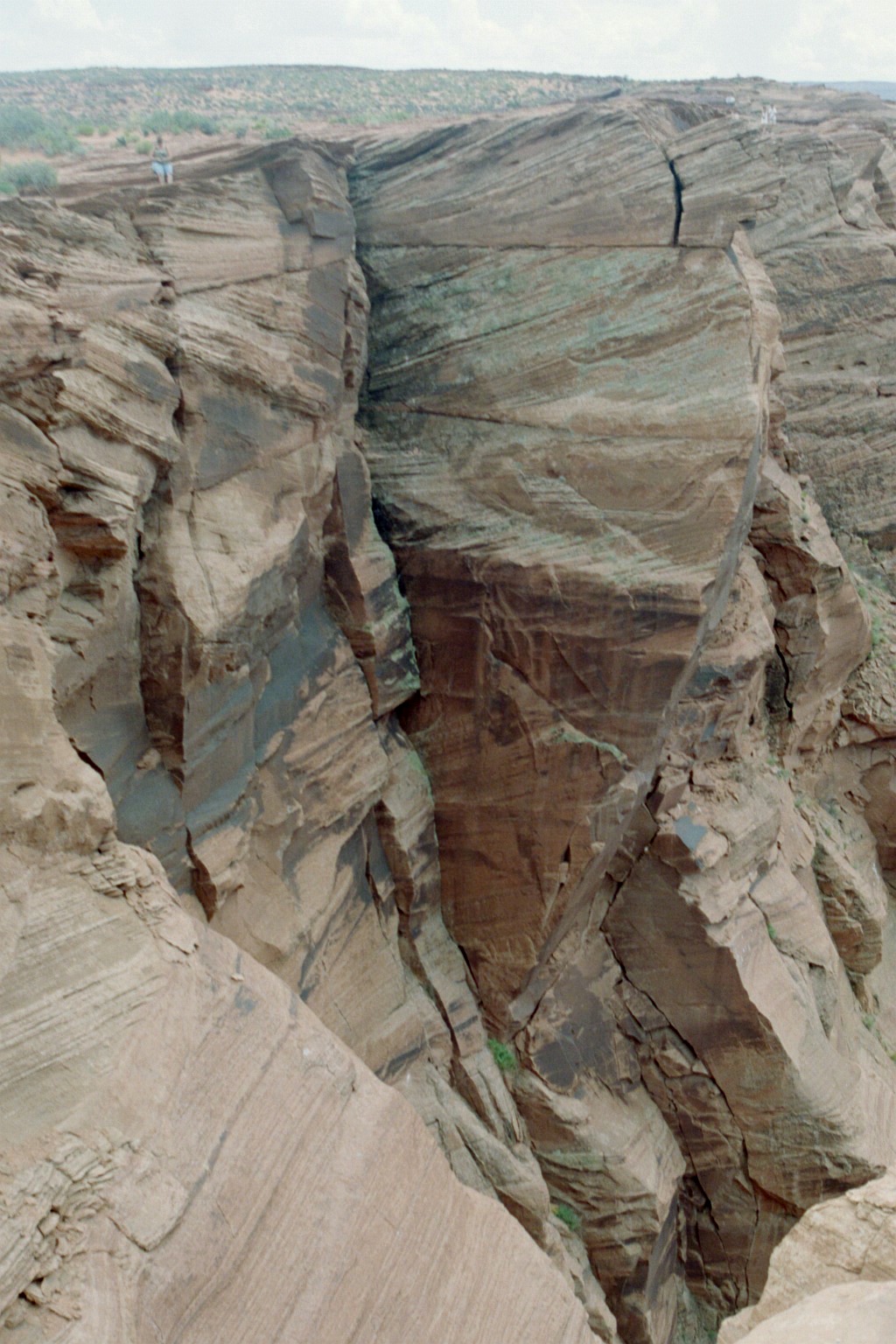 Colorado River Overlooks - See the rock again at the top right. Notice itty-bitty Irene on the top left. I couldn't
even get the river in the picture - it's just too big for a camera to give it justice.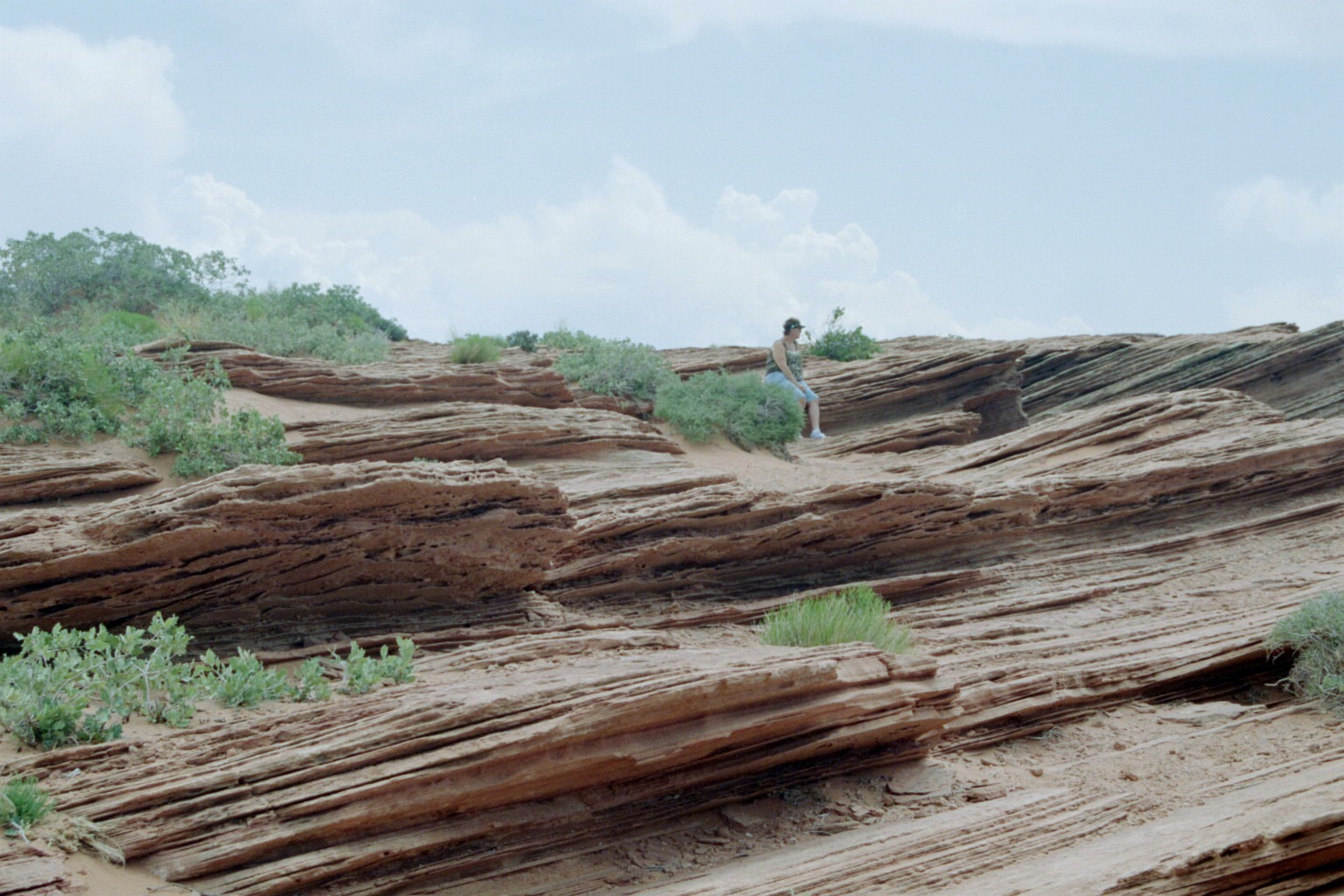 Colorado River Overlooks - Sedimentary rock, tortured, folded and twisted.
TTFN